What is there to do in Charlotte?
Now if anyone asks, "What is there to do in Charlotte?" you can effortlessly rattle off about 101 things to do in Charlotte! If you want to travel to Charlotte, North Carolina, this is a list you simply must check out! Enjoy our list of Things to do in Charlotte!
1. US National Whitewater Center – Experience the world's most unique outdoor recreation and environmental learning experiences. Share over 300 acres of woodlands along the Catawba River with Olympic-caliber athletes, weekend warriors and those looking for high adventure.
2. NC Blumenthal Performing Arts Center's, Stanford Broadway Lights Series.
3. Charlotte Shout – In September, a month long celebration of art, culture, and community, incorporating over 200 performances and events throughout the Charlotte region.
4. Mint Museum of Craft and Design – Located in Center City, the nation's most comprehensive collection of contemporary studio craft. The 2007 exhibits include Observations: A Retrospective Exhibition of Works by Ann Wolf.
5. Mint Museum of Art is a rich and diverse resource with noted collections of American and pre-Columbian art, American and European ceramics, and contemporary art and photography.
6. NBA Charlotte Bobcats – Don't miss the excitement of professional basketball in the Charlotte Bobcats Arena.
7. Children's Theatre of Charlotte – For over half of a century has been opening young minds to the wonders of live theatre.
8. NASCAR NEXTEL All-Star Challenge – A spring ritual of speed and excitement. Catch the excitement as motorsports history is written at over 180 mph each May.
9. ImaginOn: The Joe & Joan Martin Center – This 106,000 square-foot facility serves as an unprecedented resource for families, creating a synergy between educational drama experiences and the critical skills of reading unlike any in the country.
10. Discovery Place – An ever-changing, ever-growing, cutting edge science center.
11. Wachovia Championship – For the fifth year in a row, Charlotte's Quail Hollow has hosted this golf tournament. Recognized by the national and international golf community as one of the top events on the PGA TOUR.
12. Carowinds – This amusement park offers 108 acres of ultimate fun! From the hair raising rides to the wet, wet slides at the water park, Carowinds is entertainment for the entire family. Ride, spin, twirl, and hug the day away with your favorite characters from your favorite Nickelodeon TV shows.

13. Bank of America 500 – NASCAR NEXTEL Cup heats up this October as action returns to Lowe's Motor Speedway.
14. NFL Carolina Pathers – Catch a game at the Bank of America stadium or just tailgate in the parking lot!
15. Levine Museum of the New South – Interactive history museum, and experience the nation's most comprehensive interpretation of post-Civil War, southern society with Cotton Fields to Skyscrapers.
16. Concord Mills Mall– Shop til ya drop! Concord Mills offers over 200 stores, restaurants and entertainment venues.
17. Art & Soul South End – Showcases the Original Block Party, Avenue of the Arts, the Children's Arts Festival and Battle of the Bands.
18. Daniel Stowe Botanical Garden – Featuring a 110 acres of themed gardens, a dozen sparkling fountains, a spectacular Visitor Pavilion and nine distinctly themed gardens.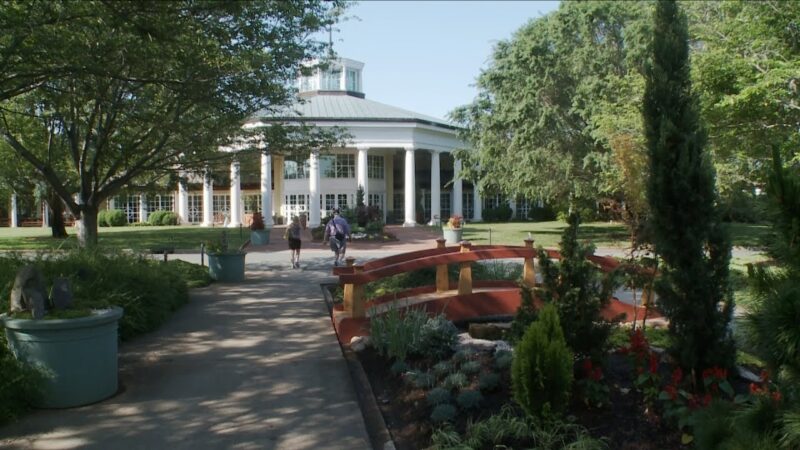 19. Coca-Cola 600 – Just one week after the NASCAR NEXTEL All-Star Challenge, home of NASCARS only 600-mile race.
20. Charlotte Knights – Enjoy America's favorite past time at Knight's Stadium. Charlotte Knights a Chicago White Sox affiliate.
21. Charlotte Symphony Orchestra – Nationally acclaimed conductors lead the Charlotte Symphony Orchestra in its popular Classics and Pops series.
22. Actor's Theatre of Charlotte – Experience theatre "off the beaten path". Valued for it's edginess, relevance, daring and artistic polish.
23. ECHL Charlotte Checkers – Each October, don't miss all the cuts, scrapes and power plays as the Charlotte Checkers take to the ice at the Charlotte Bobcats Arena.
24. Afro-American Cultural Center – Preserves, promotes and presents African-American culture through comprehensive programs and presentations.
25. Taste of Charlotte – Food Festival that draws more than 150,000 people to Center City Charlotte each June to experience a wide array of family activities.
26. Charlotte Museum of History – Exhibits chronicling the 18th – 20th centuries.
27. Visulite Theatre – Great live music!
28. Charlotte Observer Imax Dome Theatre at Discovery Place – The giant-screen theatre surrounds you with larger-than-life images and amazing sound while providing a new look at the world we live in.
29. Carolina Raptor Center – Dedicated to the conservation of birds of prey through public education and the rehabilitation of injured and orphaned raptors.
30. NoDa– Charlotte's fringe art neighborhood hosts a free gallery crawl every first and third Friday of the month. Browse the areas swakny galleries, grabe a bite to eat, and relax to smooth music played by local street musicians.
31. – Finely tuned artists who bring passion and personality to every performance.
32. Verizon Wireless Amphitheatrer-Concerts, Sporting Events, Theater, and more!
33. Charlotte Nature Museum – A child-oriented nature museum that features numerous hands-on exhibits that relate to natural history, as well as a live animal room, a puppet theatre, and a scenic nature trail.


34. NarroWay Productions-Hilarious comedy and chilling drama in fun-filled interactive performances are NarroWay's trademarks. With dinner theatre, epic biblical productions, mystery theatre, tours, field trips, and spectacular holiday events, NarroWay has a host of activities you will talk about for years to come.
35. The Light Factory -The Light Factory is a non-profit arts center dedicated to exhibition and education programs promoting the power of photography and film. Each year thousands of people visit The Light Factory at our home in Uptown Charlotte's Spirit Square to experience our exhibitions, take classes, hear talks, and see films.
36. SouthPark Mall As the Carolinas' premier shopping destination, SouthPark offers an experience like no other. SouthPark is home to one of two Nordstroms in the Carolinas, and is now home to the first Neiman Marcus in the region and the first full-line Crate & Barrel store! BCBG MaxAzria, Billy Reid, Hermes, Juicy Couture and Ralph Lauren are now open in the Neiman Marcus wing. The Village at SouthPark has recently welcomed Paul Simon, Design Within Reach and Bag'n Baggage to the mix. SouthPark offers several other exclusive stores, including Apple, Bob Ellis Shoes, Burberry, Cole Haan, Frontgate, Kate Spade, Janie and Jack, Kenneth Cole, Lacoste, Lindt Chocolate, Louis Vuitton, MontBlanc, Sigrid Olsen, St. John, Sur La Table, Tiffany & Co.,
Tommy Bahama and Tumi.
37. Reed Gold Mine– the site of the first documented gold find in the United States. From this discovery, gold mining spread gradually to nearby counties and eventually into other southern states.
38. Wing Haven– Wing Haven has been a unique part of Charlotte since its creation in 1927. The gardens and bird sanctuary, enclosed on all sides by brick walls, encompass three acres in the heart of a quiet residential neighborhood.
39. Holidays in the City – Get swept away in a Southern Winter Wonderland. Holidays in the City is a month long celebration of the holidays highlighting the city's rich tradition and culture in countless events throughout Charlotte.
40. Metrolina Expo Trade Center– one of the Charlotte area's largest and most versatile event facilities. With climate controlled buildings, outdoor exhibit space and on-site parking.Metrolina Expo is where the Largest Antique & Collectible show is held on the East Coast monthly.
41. Historic South End – Historic South End dates back to the 1850s, when the first railroad line arrived in Charlotte, connecting the Queen City to Columbia and Charleston, South Carolina. Along the tracks, a thriving manufacturing community grew up, centered on the burgeoning textile industry. During the 1970s and 1980s, the area declined, only to be revitalized in the 1990s as restaurants, shops, and design-related industries discovered the beauty and versatility of the old mills and warehouses.
42. Latta Plantation and Nature Preserve -Historic Latta Plantation was a successful cotton plantation. Come experience what life was like for planters, yeoman farmers, and slaves of the North Carolina backcountry in the early 19th century. Bring the family and make a day of it!
43. Childress Vineyards – At Childress Vineyards, varietals of Chardonnay, Viognier, Merlot, Cabernet Sauvignon, Cabernet Franc, Petit Verdot, Malbec, Syrah and Sangiovese can be seen hanging from the vines spread over our 65 acres.
44. Arts & Science Council of Charlotte – The Arts & Science Council (ASC) is a non-profit organization that serves and supports Charlotte-Mecklenburg's cultural community through grant-making, planning, programs and services to ensure a vibrant community enriched with arts, science and history. Over the past five years, ASC has experienced tremendous growth. Thanks to Charlotte's public private partnerships and the community's generous support of arts, science and history, Charlotte is now a cultural model for cities across the country.
45. NASCAR Speedpark – Home of full-throttle fun for everyone! Tracks for all ages, state-of- the-art Arcade and interactive games, the hottest driver merchandise, kiddie rides, mini golf, bumper boats, a snack bar and much, much more!
46. Queen's Cup Steeplechase – The Queen's Cup Steeplechase is held at Brooklandwood, a breathtaking 300 acre farm located in the town limits of historic Mineral Springs, North Carolina, just minutes from Waxhaw and forty minutes from downtown Charlotte. The meet was inaugurated on November 18, 1995 and has been held the last Saturday of every April since.
47. Victory Lane Indoor Karting Center – an indoor race facility located here in the heart of Charlotte, NC. with a 1/3 of a mile road course that will challenge any driver. These are not your ordinary karts. These are actual racing karts that reach top speeds of 40mph. Doesn't sound fast? Come experience it for yourself.
48. Richard Petty Driving Experience – Offers race fans the opportunity to ride in a NASCAR car, many packages available to suit your desired level of heart-thumping excitment!
49. Dale Earnhardt Inc. – Visit the house that The Intimidator built. Take a tour of the Race team shop that started them all.
50. Hendrick Motorsports – The Hendrick Motorsports racing complex is located in Charlotte, N.C., very close to Lowe's Motor Speedway. This sophisticated complex provides Hendrick Motorsports with facilities to design, test and make cars and engines for all of our race teams.
Okay, we are half way through our list of 101 Things to do in Charlotte!
51. Fourth Ward – Charlotte's residential districts are divided into wards. The fourth ward, particularly on Ninth Street, has some of the best architecture and sets a good contrast of old versus new.
52. Historic Brattonsville – Immerse yourself in rural Southern culture in Historic Brattonsville, home of the Bratton family two centuries ago. Visit the antebellum plantation house furnished as it would have been in 1780. There are more than 20 other structures to tour in this 25-acre village, including the McConnell cabin, backwoodsman cabin, homestead house, slave cabins, brick kitchen and medical offices. The Brattonsville staff offers interpretive programs to demonstrate cultural activities, domestic chores, farming and animal husbandry from plantation days through the mid-19th century.
53. Bob Timberlake Gallery – Bob Timberlake is by far North Carolina's most well-known and successful living artist. He is a master of the American Realist genre and paints rural landscapes. Timberlake's work is a testament to the value of time spent in wood lots and on front porches – of rolling hills and log barns winking from the roadside – of a fading way of rural life in the fast-growing South.
54. Lazy 5 Ranch – The Lazy 5 Ranch is a privately owned exotic animal drive thru park that offers a 3.5 mile safari through the gently sloping pasturelands of Piedmont, North Carolina. While visiting at the Lazy 5 Ranch you will have the opportunity to view over 750 animals from six different continents. You can see these animals from the safety of your own car or call for reservations on our horse drawn wagons.

55. The Ballantyne Resort – offers the affluent traveler luxurious rooms, golf, spa, tennis, Dana Rader Golf School, meeting & event facilities, dining, shopping, The Lodge at Ballantyne and a convenient location in the beautiful Ballantyne Community of south Charlotte.
56. Ray's Splash Planet – Ray's Splash Planet is unlike anything in the Carolinas!! Ray's includes a one-of-a-kind water park with fun-filled features AND the Planet is home to a fitness center with aerobic & dance room, cardiovascular theater, free weights and resistance equipment.
57. Cricket Arena – a venue that offers entertainment ranging from music, sports, performing arts, and comedy.
58. Southern Shows Inc. – produce exciting, quality, timely and well attended consumer shows. That makes ours a world of wonderful sights, sounds, ideas, imagination and opportunities. The Southern Spring Home & Garden Show is the premier flower, garden, indoor and outdoor living show in the South. Our Southern Christmas Show is legendary and known as the nation's best.
59. CIAA Men and Womens Basketball Tournament – The CIAA (Central Intercollegiate Athletic Association) has become one of the biggest annual sporting events in the country and also is the oldest Black collegiate conference. It is comprised of 12 Division II men's and women's athletic programs.
60. Food Lion Speed Street – Entering its 11th year of free, family entertainment, Food Lion Speed Street has been selected as one of the Southeast Tourism Society's Top 20 Events. The event is free to the public and showcases race-themed attractions and exhibits, appearances by NASCAR drivers, live musical entertainment from some of the top named artists, food, drink, and dynamic activities for the entire family.
61. Golf Courses – Charlotte's collection of 1,400 exquisitely manicured greens, expertly sculpted golf courses, come together to produce one of th emost unique golfing experiences.

62. Charlotte-Mecklenburg Parks and Recreation Department – Outdoor enthusiasts are sure to find the "perfect spot" among the over 175 parks operated by the Charlotte-Mecklenburg Parks & Recreation Department. Enjoy a day of hiking, playing, or championship Frisbee golf.
63. Plaza-Midwood – Features an exciting mix of antique and consignment shops as well as art galleries Boutique stores sell one-of-a-kind clothing, home furnishings, and accessories. Diners at locally owned restaurants can enjoy everything from Southern homestyle cooking to authentic ethnic cuisine.
64. Dana Rader Golf School – Designed and built from the ground up to be a golf teaching facility, the Dana Rader School offers extensive programs for men, women, juniors, and corporate events. There are acres of chipping-pitching-putting greens and bunkers, and an indoor training facility in the event of inclement weather.
65. Museum of York County -honors its past with several Cultural and Heritage Museums, which interestingly bring the past and North Carolina's distinct heritage to light.
66. The Evening Muse and Neighborhood Theatre – the perfect spot to sip a glass of after-work Pinot Grigio as you take in anything from a poetry reading to a night of high-octane rockabilly. With a schedule studded with acts that range from the soulful Americana of the Near Misses to the Pixies-style jangle-rock of Poprocket, the Muse hosts live acts Wednesdays through Sundays. Though the more established performers typically hit larger spaces like the nearby Neighborhood Theatre, the Muse brings on an eclectic and appealing selection of songwriting and screenwriting seminars, open mike nights, and even an occasional round of midnight karaoke.
67. Novello Festival of Reading – The award-winning Novello Festival of Reading, held each October by the Public Library of Charlotte and Mecklenburg County, is a celebration of reading and books that includes presentations by best-selling authors and other reading-related activities. WordPlay Saturday is an essential component of Novello. This family-friendly street festival, held on the first Saturday of Novello, includes stage acts, author appearances and autographing, themed activity areas, writing workshops, music, storytelling, and more.
68. UNC Charlotte 49ers – the UNC Charlotte 49ers grab your "A10tion", part of the Atlantic 10 Conference. The 49ers boast some of the best collegiate sports teams and facilities in the nation.
69. Shelton Vineyards – Shelton Vineyards, founded in 1999, is North Carolina's largest family-owned estate winery. A large visitor center with a tasting bar and gift shop is available at the winery. Every day of the week, Shelton Vineyards offers tours and tastings. The grounds at Shelton Vineyards are beautifully landscaped, and picnicking is encouraged. Picnic supplies are available on-site. Shelton Vineyards hosts a summer concert series on our outdoor stage during the summer months.
70. Ovens Auditorium – hosts numerous traveling Broadway musicals, national touring comedy acts and celebrity msicians. Surrounded by its trademark fountains and rose gardens, Ovens Auditorium is truly among the finest of Charlotte's landmarks.
71. Carolina Place – the best in shopping, entertainment and dining!
72. Carolina Aviation Museum – Immerse yourself in aviation history at the North Carolina Aviation Museum. Located in central North Carolina, the aviation museum houses some of the world's most famous warbirds. Here you can see a collection of authentically restored, airworthy aircraft dating from World War II through the Vietnam era.
73. Sam Bass Gallery of Motorsports Art – This gallery of motorsports art by Sam Bass showcases more than 300 pieces of art, including originals, limited edition prints, and fine art posters.
74. Lake Norman – Explore Lake Norman and enjoy the area's best water recreation. Water Skiing, swimming, tubing are everyday facts of life here!

75. Northlake Mall – Experience North Charlotte's retail boom in this new enclosed mall that features over 150 stores and a 14 screen AMC theater megaplex.
76. Spring Literary Festival – A long history of bringing the best established and emerging literary talent to Western North Carolina's mountains While the region has its own rich literary heritage, the festival seeks to secure that heritage's place on the national literary stage by bringing together local and national writers.
77. The Green – Relax on The Green, Charlotte's outdoor, novella-themed park, located across the street from the Charlotte Convention Center. Upscale Resturants and outdoor entertainment are all footsteps away.
78. Bass Pro Shops Outdoor World – Offering everything from the best hunting, camping, and fishing supplies to safety courses, wildlife education, and more, the Bass Pro Shops retail store is a leader among North Carolina fishing and hunting outfitters. Whether you need gear for hunting in North Carolina or simply want to maximize your outdoor fun, shop Bass Pro.
79. Jeff Gordon Racing School – Jeff Gordon, four-time NASCAR champion, has announced the opening of a driving school aimed at providing the most exciting and entertaining experience in the motorsports world. "For me, the NASCAR experience has always been exhilarating," Gordon, driver of the #24 Dupont Chevrolet, said. "It's been the most exciting part of my life, and I want the fans to be able to feel the rush of speed like I do."
80. Roof Garden at the Forum – a fabulously-designed, airy structure that's as big on symmetry and soundness as it is on great DJs and disco balls. Blending functionality (spacious dance floor), feng shui (outdoor patio, roof garden) and a touch of flair (exposed brick walls, multimedia art), the Forum is that groovy oasis the Queen City's clubbers have long searched for.
81. Charlotte Convention Center – Experience the collection of renowned public artworks that adorn the Charlotte Convention Center, or attend a variety of tradeshows and conventions open to the public, including the Charlotte International Car Show and Mid Atlantic Boat Show.
82. Charlotte's Annual Home and Garden Tour – Celebrate nature's splendor each spring as the Mint Museums host Charlotte's Annual Home & Garden Tour. The tour features a splendid array of elegant homes and spectacular gardens located in some of Charlotte's most beautiful neighborhoods.
83. Phillips Place – Fine, upscale shopping opportunities, along with breathtaking landscaping, line the streets at Phillips Place.
84. Pit Crew U and 5 off 5 on – Drop in on the school that is training the best pit crew in NASCAR. The school offers a basic eight-week program, Pit Crew U, followed by an optional advanced-level course, called "5 Off 5 On: Race Team Performance." The term "5 off 5 on" refers to a tire-changer's duty: Five lug nuts come off, five go on.
85. Richard Childress Racing Museum – The excitement of NASCAR Winston Cup racing can be found at the Richard Childress Racing Museum.
86. The Comedy Zone – Live Comedy Venue that features local, national, and international talent every weekend.
87. City of Frescos – Charlotte is called the City of Frescoes. Rare in the U.S., Charlotte is home to several sites painted by Ben Long, a NC native.
88. Opera Carolina – one of the largest and most successful professional opera companies in the Southeast. The company's strong reputation is built on a commitment to excellence in its mainstage productions and acclaimed Education & Outreach programs. World renowned principal guest artists continue to join a superlative resident company to present live performances of opera and operetta to a diverse audience.
89. Latta Equestrian Center – show grounds, lighted arenas, guided trail rides, horseback riding lessons and a tack shop at Latta Plantation Nature Preserve in northwestern Mecklenburg County. With 13 miles of equestrian trails winding through the woods, this is the perfect spot for a peaceful afternoon ride.
90. Dale F. Halton Theatre – At Central Piedmont Community College's Dale F. Halton Theater, education meets entertainment. Cath theatre, music and dance productions on a stage worthy of the world's great artists.
91. NC Racing Auto Hall of Fame located in Mooresville NC, this Racing Hall of fame annually inducts new members and is available for touring year round.
92. Hart Witzen Gallery – Hart Witzen is a privately owned, self sustaining arts venue supported through rental of the gallery and artist studios
allowing HW to function as an alternative space not dependent on government grants nor subject to the artistic opinions of others. Some of the most original artwork in the area can be seen here.
93. Lowes Motor Speedway Over the Wall Tour – At the center of the excitement is Lowe's Motor Speedway, one of the country's premier racing facilities which hosts three NASCAR Nextel Cup events each year as well as other motorsports races and various car shows. The Speedway's Over the Wall Tour is a fun behind-the-scenes tour which allows visitors to get a close-up look at the garage, travel down pit road, and even drive around the Speedway's infamous 1.5 mile oval with 24 degree banks. Over the Wall tours are just $5 and well worth the cost to experience driving along the Speedway.

94. Queens Landing – Enjoy a day of fun on beautiful Lake Norman, where the options are endless. We have so many things to do in our convenient location 30 minutes north of Charlotte that you'll have to keep coming back. We can be reached by car or boat. If you're on your own boat and want to cool off with an ice cold beverage, stop by our Floating Dock Bar. Hungry? Jack's Lakeside Grill serves a variety of appetizers, salads, and sandwiches, as well as a daily lunch special. Play a round of miniature golf or ride the bumper boats with the kids. Lunch will be served on The Catawba Queen, our replica Mississippi River boat. While you're eating, take a 12-hour cruise around Lake Norman. The Catawba Queen has a fully stocked bar.
95. McColl Center for Visual Arts – The center supports an active artist in residence profram and their works can eb viewed by the public. The Center also offers lectures and artists forums.
96. Duke Power Energy Explorium – located at McGuire Nuclear Station. The Energy Explorium features hands-on energy information exhibits, a Lake Norman movie, wildflower garden and one mile nature trail.
97. Ribbon Walk – RibbonWalk Urban Forest is woodland oasis in the heart of the city of Charlotte. The forest includes 192-acres of woodland and wetland habitat with several miles of nature trails and a variety of native flora and fauna. An extraordinary grove of old-age beech trees designated as a "treasure tree grove" stands out a one of the most impressive features of the forest. There are also picturesque mature pines, flowering trees and other native hardwoods. Wetland features include several ponds and meandering streams. Native wildflowers dot the forest floor. Take and walk and discover wildlife or signs of wildlife. You may see mammal tracks, hear frogs or spot one of more than 60 birds that have been seen in the forest by birdwatchers. There are many natural wonders to behold.
98. The Federal Reserve Bank of Charlotte – The main lobby of the Charlotte Office offers a money exhibit featuring a history of money in the United States from Colonial days to present and includes a display highlighting the gold mining era in the Piedmont region of North Carolina.
99. Schiele Museum of Natural History and Planetarium – The natural wonders of North America and North Carolina coupled with the rich history of our region are all reflected in The Schiele's exceptional exhibitions and diverse programming. Whether you're indoors or out, with the kids or your colleagues, by bringing you a lot closer to nature, The Schiele will bring you a little closer to yourself.
100. NC Transportation Museum – Explore exhibits of antique locomotives, rail cars, automobiles and more. Take a train ride around the N.C. Transportation Museum's historic 57-acre site, enjoy our many family-friendly special events, and learn about how transportation progress helped build North Carolina.
101. Lake Wylie – recreation is an integral part of the Lake Wylie lifestyle. With 325 miles of shoreline, the lake is ideal for boating, fishing, water skiing and sailing. The mild climate, yet wonderfully distinct, seasonal changes not only enhance the area's beauty, but also afford year-round enjoyment of golf, tennis and bicycling.