We had an action packed day yesterday! We jumped in the car and headed up the highway to Huntersville, NC to Discovery Place Kids. It's a short 30 minute drive from where we live in Charlotte and I had several people say it was a great place especially for toddlers. Discovery Place is located on the cutest corner in Huntersville with several very nice restaurants within walking distant. It was $30.00 for the 3 of us upon entry and for that we had about 2 hours of fun. My first thought was that price was a bit steep for the adults, but if you put it in perspective the amount of fun the kids had then it was most definitely worth it!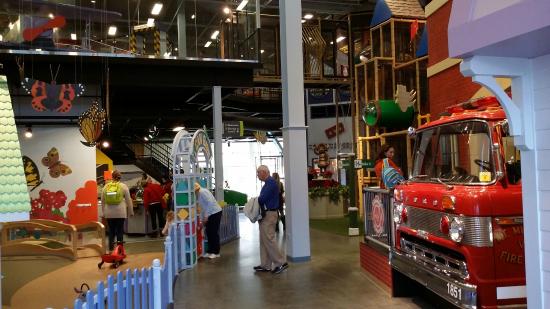 There are two levels of exhausting fun to the building. The areas are broken out into themes which depict various scenes of everyday life.
I CAN Build
I CAN Build is the world of future architects and engineers! Tables are piled high with Legos and tinker toys (remember those?). There is a wall covered with the Lego base to build off from. That idea fascinated me, but don't think there is any place in our small house for a Lego wall…bummer! The floor is covered with large blocks for stacking. My Daughter likes to see how high she can stack a "tower" before they tumble.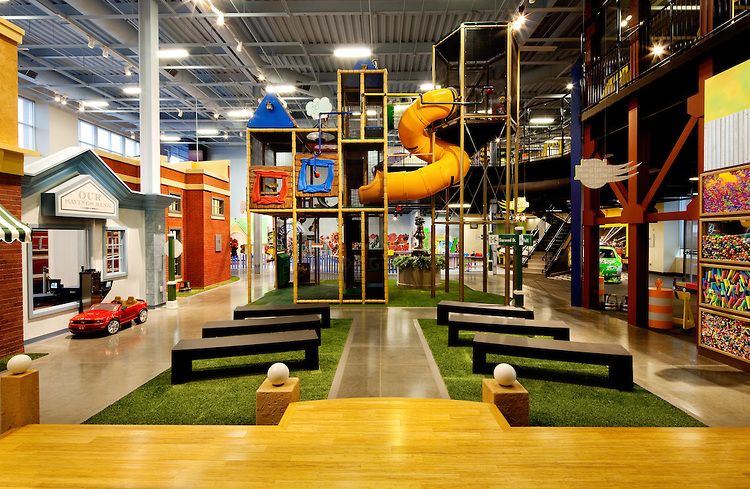 I CAN Create
Future Van Gogh's and Picasso's can create masterpieces here in I CAN Create. Just about every medium was available for the little hands to explore and color their imagination.
I CAN Move
I CAN Move has every means of movement by road, air or water displayed in some fashion. There are race cars and speed boats for the little ones to try on for size. There is an airport complete with a make shift security luggage check station and a airplane to climb in. One section that was all a buzz especially with little boys was the auto repair shop. They had a little car lifted up and mini mechanics were climbing under the hood to take a look.
Town Center
The Town Center is, well that, the center of the whole Discovery Place. On the stage they perform costume and puppet shows, as well as sing-alongs. Right in the center of everything is a play center which provides one exciting route to the 2nd floor. The kids can make their way up stairs and through tubes to the top.
I CAN Work
In the I CAN Work segment, there is the cutest little market (grocery store) with small shopping carts and a mini check-out stand. The shelves are stocked with a variety of food and home items that you would purchase for every day life. There is also a veterinarian's office, doctor's office, bank complete with car drive-through.
I CAN Be Healthy
The I CAN Be Healthy area is made up of the cutest diner complete with a lunch counter overlooking the kitchen. Mini chefs adorned with chef hats and aprons slaved away pretending to prepare healthy meals for their hungry clientele. My pictures came out horrible of this area…it is at the end and we were tired, but wish I had gotten just one good one!
I CAN Grow
I CAN Grow is particularly geared toward the smallest of visitors. This area consisted of a little playhouse with a garden and pond. This area also provided for some water play through an elaborate water table.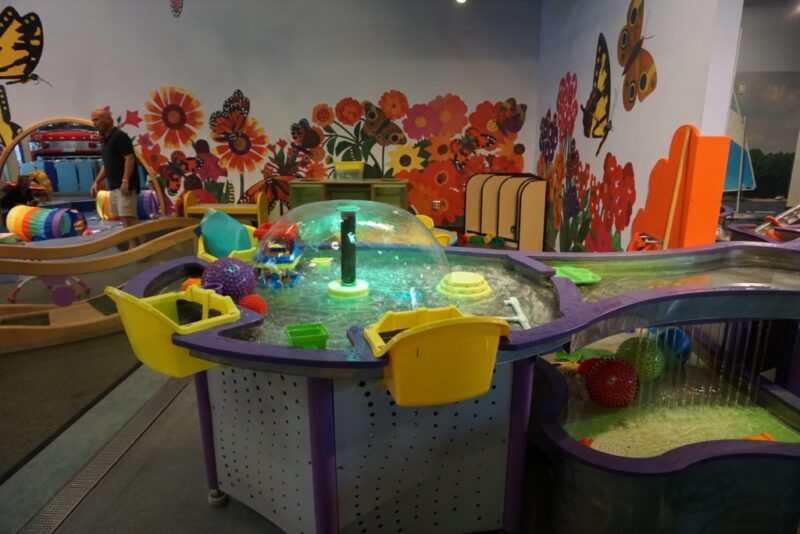 We had a wonderful time watching my daughter explore the different areas and she had a blast! The only down side to the place was moving through the place rather quickly because other bigger kids coming through and taking over.
Next time you are in the Metro Charlotte area, I suggest checking Discovery Place Kids out with your kids!