Carolina Foothills Visitors Guide
This area in Western North and South Carolina includes the towns of Landrum, SC, Tryon, Columbus and Saluda, NC. It covers topography seldom seen in such a small geographic area. It ranges from rolling foothills, perfect for horses, and level plains on one side and wild high- timber rugged mountains on the other.
On top of White Oak mountain near Shunkawaken Falls one can see "the greatest view east of the Rockies at night breath taking twinkling tens of thousands of lights frame a height of 3000 ft by day it's a clear majestic view of fields and farmlands stretching 50 miles".
The landscape of the area is steep rugged mountains, gorges, coves, pastures and cultivated fields, apple orchards, streams and lakes.
Not only is the landscape beautiful, the weather is relatively mild in all four seasons. The area is known for its "thermal belt" temperate weather. The US Department of Agriculture stated,
"An outstanding characteristic of Western North and South Carolina is the thermal belts which are probably more pronounced here than at any other place in the eastern United States. Frequent observations have shown temperature inversions of 20 degrees or more along some mountainsides".
This means on cool nights the temperature is relatively high on the slope of the mountain- much higher than at the base.
The benefit of such temperate weather is that it creates a comfortable, healthy environment for people to enjoy as well as a climate that is superior for agriculture. The area boasts many small organic farms but is especially proud of its grape production for wines.
Known as the Tryon Foothills of Polk County Wineries, guests are welcome and encouraged to explore the local vineyards. Over Mountain Vineyard, Parker-Binns Vineyard and Mountain Brook Vineyard invite guests year round to their wine tastings. One can bring a picnic, enjoy the view and soak up the history of the area.
At one time before Prohibition, this was known as the largest grape producing area in the United States. Several vineyards here were producing over 19,000 vines at a single vineyard. Some say it all started with Brig. General Ulysses Doubleday who retired here in 1890 for the mild climate and established a large vineyard for grape production not wine.
With the waterfalls, mountains and rolling hills of the Carolina Foothills outdoor recreation is almost unlimited. There are numerous golf courses, equestrian activities, festivals, fishing, kayaking, boating, tubing, hiking, cycling and camping.
Tryon Foothills of Polk County
Known as "Tryon Foothills of Polk County", the area is becoming known for its regional wines. Due to the relatively mild climate and thermal belt, this area is bringing back the tradition of grape growing and harvesting. If you're interested in having a tour of the wineries contact Tryon Wine Tours.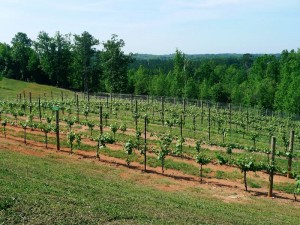 Overmountain Vineyards is a boutique winery that sits on a 70 acre family owned farm in Tryon, North Carolina. OMV grows 16 acres of French Vinifera focusing primarily on Petit Manseng, an elegant aromatic white originally from southwest France as well as red varietals Cabernet Sauvignon, Cabernet Franc, Merlot and Petit Verdot. Two acres of organically grown blueberries are also under cultivation for future winemaking. They use primarily estate grown fruit.
Frank Lilly, Winemaker and his daughter, Sophia, Assistant Winemaker, focus os developing artisanal wines which are hand crafted and distinctive. At Overmountain Vineyards, innovation is at the core of everything they do. They create old world style wines with the latest in modern innovative techniques both in the vineyards as well as in the winery.
The tasting room is open year round. During the high season (from bud break in the spring through harvest in the fall) they feature an Event Series with live concert performances, local food and always a great time! During the cooler months, the communal fire pit is a popular place for gathering. The front porch offers stellar views of the Foothills and they have many areas from secluded, intimate settings to places for larger groups and gatherings. If you are feeling adventurous, there is a certified segment of the Overmountain Victory National Historic Trail on site.
Parker-Binns Winery is a family run vineyard and winery established in 2008, on 40 acres in the Pea Ridge area of Polk County. Their estate wines are handcrafted in small quantities in artisan style. Their stunning location is perfect for special events including weddings or corporate events. They feature Chardonnay, Cabernet Sauvignon, Cabernet Franc, Merlot and Chambourcin.
Green Creek Winery is located in Columbus on Gilbert Road. They host various events including weddings, receptions, private parties and corporate events. They offer wine tasting Thursday through Sunday from 1-5 pm and feature food related products made with wine.
Mountain Brook Vineyards owned and operated by Dennis and Miriam Lanahan and located on Phillips Dairy Rd in Tryon, NC. They're known for their Merlot but have recently introduced a Cabernet Sauvignon that's become quite popular.
Russian Chapel Hills Winery is the newest winery in the area and opened to the public in Fall 2014. The winery has 18 acres several varieties of grapes. They use only estate grown grapes in their wines. Russian Chapel Hills Winery is also the sole distributor of Karma Wines from Rioja, Spain.
Arts, Entertainment & Shopping
Our Carolina Foothills towns boast a rich cultural and equestrian history with a vibrant artsy scene which continue to draw tourists and residents alike.
Downtown Saluda, Tryon and Landrum have a great collection of art galleries, gift shops, antiques and old-fashioned general stores. Gallery walks dubbed "Gallery Trots" here are a nod to the rich equestrian history. Farmer's markets and funky festivals, held throughout the year, are surrounded by breathtaking views.
A mecca for the Arts, Entertainment & Shopping, the towns of the Carolina foothills are brimming over with interesting things to see and do. Tryon Painters & Sculptors, Tryon Little Theater, and the Tryon Fine Arts Center are just a few of the outlets to express your creativity. Whether your thing is world-class chamber music, or casual blue grass festivals, it's all here at your fingertips waiting for your to discover. Experience for yourself the charm and intrigue of Our Carolina Foothills!
Arts
Flat Rock Playhouse
Tryon Fine Arts Center
Tryon Little Theatre
Tryon Movie Theater
Foothills Quilt Trail
 Entertainment
Blue Ridge BBQ Festival
Charity Horse Shows
Roger's Park Summer Concert Series
Top of the Grade Summer Concert Series
Block House Steeplechase
House of Flags Museum
Polk County History Museum
Shopping
Art Galleries
Artisan's Shops
Antique Shops & Malls
Landrum Farmer's Market-Saturday 7am-11am
May thru October
Polk County Farmer's Markets
Specialty Clothing Boutiques
Tack Shops
Outdoor Adventures
Head up the Saluda grade, the steepest grade east of the Mississippi, and you'll come upon Saluda, quaint village with an energetic vibe. The railroad used to come to Saluda, moving goods from Charleston to Asheville. Now the grade is perfect for outdoor adventure. Trail hiking, biking and running are amped up by the steep grade. It also makes an exciting run in a kayak and attracts paddlers from all over the world.
Whether your interests are going on a thrilling zip line canopy adventure like the one offered at the famous Green River Gorge, playing world class mountain golf courses, or simply engaging in equestrian events all year round … we've got it all!
Horseback Trail Riding
Horseback Riding Lessons
Ziplining at the Gorge
Kayaking
White Water Rafting
Golfing
Cycling
Trout Fishing
Mountain Climbing
Mountain Biking
The Sporting Lifestyle
The south's big cities may get all the splash and buzz, but for in-the-know travelers, Our Carolina Foothills' small towns are the best-kept secrets. In a time when "authentic" is a travel buzzword, these hamlets are attracting visitors with an often unexpected—and dare we say sophisticated—array of independent and locally-minded cultural, outdoor, and culinary offerings.
Is there a downside to all this small town regeneration? Narrowing down this list to just your favorites. Our new generation of small towns can boast great local eats from local farms, interesting museums and cultural points, and noteworthy natural attractions and a growing list of outdoor adventures. The result is a list that should inspire travelers of all walks to fill up the gas tank and hit the road for Our Carolina Foothills.
Eat
Take a moment to slow down and visit our towns and you'll find the local chefs serving food to rival award winning meals in other Carolina cities. From local southern cooking to casual fine dining, to pub fare this area has it all for your enjoyment from our neighboring Carolina cities. From holes-in-the-wall that the locals love (Market), to fine dining hidden treasures (The Orchard Inn in Saluda) and from "down home" Southern cooking to the delicious eclectic fare of Stone Soup Market & Cafe, the options are impressive.
The rural horse country of western North Carolina and upstate South Carolina has been acclaimed in recent years for being a pioneer in locally grown, seasonal, farm to table cuisine. This area has a great growing season and a surplus of organic farmers which is reflected in the cuisine and the farmer's markets. So, the next time you're planning a getaway or weekend trip, any of Our Carolina Foothills towns should prove surprisingly tasty.
Wineries, Brews & Good Food
The Carolinas are the home to beautiful vineyards and wineries. Each winery is distinct and caters to a variety of tastes. Upstate South Carolina and the Tryon Foothills of Polk County have some of the South's finest vines and most creative winemakers. Each winery is as distinct as its owner's tastes. Tour the wine country here and you're likely to meet the hospitable proprietors at the tastings.
Head into any one of our towns at find craft beer served with casual gourmet fare. Bottle Tree Beer Company, located in Tryon, crafts a Belgian-style golden ale and a darker Red Ale. Both are sure to wet your whistle.
Overmountain Vineyards
Green Creek Winery & Vineyard
Parker-Binns Vineyard
Russian Chapel Hills Vineyards
Mountain Brook Vineyards
Bottle Tree Beer Company
Tryon Backdoor Distillery
Mc Gourty's Pub
Landrum, SC
Looking for fertile land, the first homesteaders settled in the Landrum area in 1760. Living alongside the Cherokee Indians, it would be another 120 years before the Town of Landrum became official in 1880 when the railroad came through town. Mr. John Landrum gave the railroad land for the construction of a station. And thus, Landrum was established in 1883 and became incorporated.
As the railroad pushed north into North Carolina, the town continued to grow and expand becoming a city in 1973. The early citizens were primarily subsistence farmers growing wheat, corn, cotton, sorghum cane, cotton and sweet potatoes. Eventually peaches became the largest cash crop in the area. Peach farms can still be seen in the area today.
Today many tourists come to enjoy the historic downtown area with the original refurbished railroad depot. Landrum is a walk able city of traditional design with many vintage brick buildings. In keeping with the history of the area, one will find many antique shops as well as other specialty and gift stores, restaurants and galleries.
This town truly is a mix of eclectic artists, musicians, retirees, retail store owners, and people from all walks of life. Surrounding Landrum are farms, equestrian venues, golf courses, hiking and cycling trails as well as lakes for water enthusiasts. The Foothills Equestrian and Nature Center (FENCE) is located just outside of town. FENCE offers a year round equestrian facility with 300 permanent stalls, 2 large outdoor and one large covered arena. FENCE also offers extensive nature programs, bird watching and hiking trails.
Saluda, NC
Saluda, NC originally called "Pace's Gap" was incorporated in 1881. The name Saluda is of Indian origin meaning "Corn River" and was named after a Cherokee Chief. Saluda came into existence when the railroad came up the Saluda Grade connecting Tryon with Saluda. Situated at the top of the grade, Saluda is a gracious community of 575 year round residents and is filled with art, crafts, galleries and restaurants. The downtown area of Saluda hasn't changed much since it's inception and in 1996 was placed on the National Register of Historic Places.
The Saluda Grade is the steepest mainline standard gauge grade in the Untied States. There are over 50 curves and the gradient ranges from 3.7 to 5.59%. It took over 8 years to build with many unfortunate lives lost. The first westbound train came through in 1878 originating in Charleston, SC and going all the way to Ohio. Many Charlestonians came up to Saluda that summer to escape the heat and built permanent seasonal homes around Saluda and Lake Summit.
The train also carried freight of cotton, grain, timber, coal and textiles. By 1927 the track was at its busiest carrying 30 freight trains and 8 passenger trains a day.
Today one can take the scenic drive up 176 from Tryon to Saluda stopping by Pearson's fall on the way. The falls were purchased in 1931 by the Tryon Garden Club and is made up of 268 acres of virgin forest, spring fed streams and a 90-foot waterfall. The hike to the falls is only a mile and defiantly worth the trip. More than 200 species of fern, flowering plants, algae and moss flourish in the wildflower preserve.
Columbus, NC
Columbus was established in 1855 on a 100-acre site of wild, rugged foothills, nestled up to White Oak Mountain. The town was named after Columbus Mills, a NC senator whose grand father, Ambrose Mills, was one of the first settlers in the area. Columbus has been the county seat since being established. Know for it's historic courthouse completed in 1859 from bricks made of local clay and baked nearby. The courthouse still stands in the center of town and is the 8th oldest courthouse in NC that is still in use today. The classic architecture is Greek revival and features a spiral staircase in the entry, a cupola made of hand-hewn lumber and a cast bronze bell made in 1858.
Columbus also houses an extensive flag museum, known as the House of Flags. The museum has replicas of all the flags, which have flown over the White House as well as from all 50 states. There are flags representing the US armed services and flags donated of other Nations.
Tryon, NC
Tryon, NC was incorporated as a town in 1885 with the expansion of the railroad westward. The train brought many tourists seeking to escape the hot, humid weather of the lowlands of South Carolina. Tryon became known as the place to come for health advantages as well as a mild climate.
Oak Hall, later became Tryon City Hall, was the largest of the hotels in the area with 66 rooms and several out houses. It was built in 1882 and many famous people stayed there. In 1911 Thomas Edison and Henry Ford made their way through the area showing off the "Tin Lizzy"s ability to handle rough roads and stayed at Oak Hall. The actor William Gillette, who played Sherlock Holmes, first stayed at Oak Hall than purchased several hundred acres and built an estate making Tryon his permanent home.
One of the most notable guests who frequented Oak Hall was Lady Nancy Astor, whose sister, Nora Flynn, built the estate "Little Orchard" on Hunting Country Road and was a gracious and charming hostess holding many parties throughout the seasons.
Nancy and her husband "Lefty" Flynn (an actor) moved to Tryon in 1937 and hosted many famous friends such as David Niven, F.Scott Fitzgerald, Lady Astor and her husband Lord Brand, English Ambassador. TH Perkins (chairman of the board 1st National City Bank, now Citicorp) after such a visit to the Flynn's decided to stay and built the Cotton Patch Plantation house. Perkins brought many friends down from the north to visit and helped create Tyron's ambience and reputation.
Carter Brown came to the area from Castle Park, MI and started the Tryon Riding & Hunt Club in 1925. The TRHC's mission was to promote horse sport and maintain hundreds of miles of trails for residents and guests to enjoy equestrian activities. Carter bought a sanatorium in 1917, renovated it and turned it into the Pine Crest Inn. The inn was primarily used for guests, family and friends who loved horses, horse sport and foxhunting. The original building was on 9 acres and included a 200-year-old log cabin, woodcutter cottage, stonecutter cottage and the main lodge with 30 guest rooms.
They Tryon Horse & Hound Show was the forerunner to the present Tryon Horse Show organized by the TRHC. Originally the show catered to local riders, horses & hounds but as the popularity grew larger numbers of competitors came from outside the area. To this day, the show is held at FENCE and can have as many as 500 horses and riders competing for prizes and prestige. The original show was held on Wednesday and brought out the entire county. Businesses were closed, schools let out early and everyone came for the free BBQ and festivities. Carter Brown also started the Block House Steeplechase which is held today in April at the FENCE steeplechase track. Tens of thousands of spectators come each year rain or shine.
Along with its rich equestrian history, Tryon became established as a town, which supported the arts and encouraged many artists, craftsmen and sculptors to move to the area. Over the decades, many artists have chosen Tryon as the ideal place to live and work. Studios like the Mills-Mosseller Studio have created heirloom quality pieces that have been in museums and private collections throughout the world.
The residents of Our Carolina Foothills have been taking to the stage since 1895. Before the Tryon Fine Arts Center, plays were staged at the Opera House on Melrose Ave by the group calling itself "Drama Fortnightly". In 1948 the Tryon Little Theatre was established and in 1969 the arts community built the Tryon Fine Arts Center. Frances Mayo directed the first play performed there, February 12-15, 1969, was the "Madwoman of Challiot". Both theatres are still in frequent use today.
The Tryon Movie Theatre was originally built in the early 1900's as the telephone & telegraph headquarters for Polk County. In the 1920's it was converted into a vaudeville and movie theatre for whites only. A fire in the 1930's damaged the building and in 1938 it was reopened with a balcony and outside concession stand to accommodate blacks. In the mid 1940's the theatre was packed with almost 400 guests for the premier of "Gone With The Wind". The theatre houses many original telegrams from various movies stars celebrating its reopening and premieres. These may be viewed today in the theatre lobby. The theatre is rumored to have a ghost still in residence today. In the 1950's the manager, Mr. Marvin Ball, was shot and killed and the murdered was never found.
The movie theatre thrived through the 1970's and was sold the Crowell family, who in 1985, applied for and received the first malt beverage license and today still serves beer in the upper balcony.
The most famous of the Tryon Toy makers and Wood Carvers were Eleanor Vance and Charlotte Yale who came to the area in 1915 to retire after working for years at the Biltmore Estate. Queen Alexandra of England officially recognized their work as they won the gold medal for crafts at the Panama-Pacific Exposition.
After the death of George Vanderbilt, the pair left Asheville and moved to Tryon to teach weaving, pottery & woodcarving. Over time they went from making furniture to toy making. Vance and Yale made the original Tryon Horse mascot, Morris. In 1923 the toy business was flourishing and the pair built the Toy House on Howard Street, which is still standing today.
One of the most internationally acclaimed artists from the area is Nina Simone. She was born Eunice Waymon in Tryon in 1933. Her music career began in the church, as her mother, Katie, was a Methodist minister. Eunice, who was naturally talented, was given piano lessons at the age of 6. In recognition of her talent, a "Eunice Waymon Fund" was started to raise money to send her to the Julliard School of Music in New York City. When the money ran out she went to Philadelphia were her family had moved. Eunice began her stage career in Atlantic City where she played and sang for $90 a week. She took the stage name Nina Simone in order for her mother not to find out about her choice of career. Nina created a sensation. In 1959 she became an international star with her version of "I love you, Porgy".
Nina suffered from personal pain, frustrated passion, and loneliness and complicated family relationships. She returned to Tryon in August 1991 for the filming of her life retrospective by the BBC.