Matthews Attractions, Living, Neighborhoods, Demographics
So you want to know more about Matthews, North Carolina? Well, you would do well to start with a brief history of the area where the town is now located. If you need more, The Matthews Historical Foundation is a fount of knowledge on the subject for the advanced reader.
Certainly, an obvious fact is that Matthews is a suburb of Charlotte, North Carolina, the largest city in the state. So Matthews with its population of some 19,000 residents, is part of the region known as Metrolina, which has the distinction of being the fifth-largest urban area in the U.S. So it shares Charlotte's widely-known mild climate, with four distinct seasons of weather. You are always a short drive from wide, sandy beaches and tree-covered, smoky mountains.
Another great way to get to know more about Matthews is to read the local newspaper, The Matthews Record. A valuable resource for locals and small-town southern all at the same time! As these types of publications are dying off around the country, it is great to see a local rag with classifieds, coupons, color stories, and an impressive circulation.
You should also know that Matthews has its own police force that does a wonderful job of local law enforcement, community involvement, and neighborhood watch organization. There is a county library branch in the Matthews Town Center, the focal architectural structure downtown. In fact, residents are treated to fine local government services for their tax dollars in Matthews.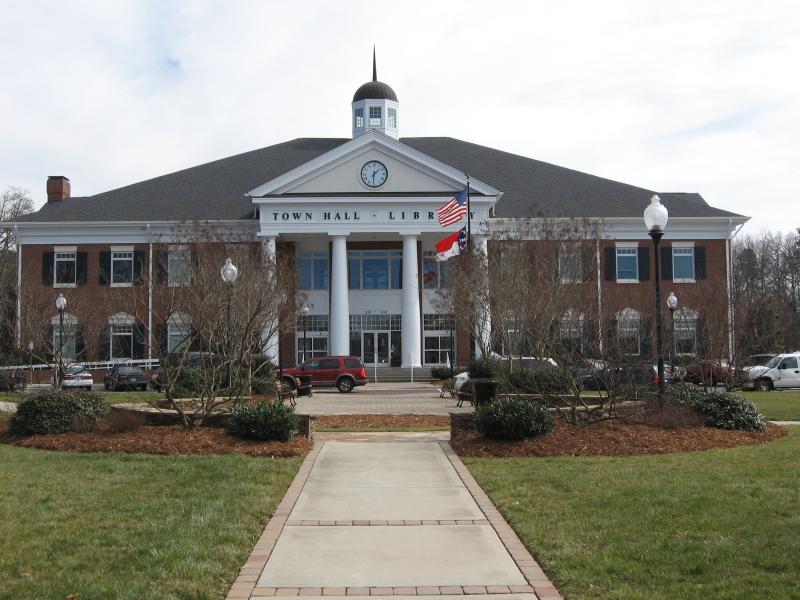 If you are attracted to suburban living, then you will love Matthews… Charlotte's finest southern suburban township. And it has the sought-after neighborhoods to prove it! Brookhaven is a great place to start. A large John Wieland community, it has an unbelievable pool and clubhouse, wooded walking trails, and brick-four-side luxury homes… some with basements. Closer to the town center is Sardis Forest, a neighborhood of 586 homes, mostly built by the William Trotter Company and started in 1976. Part of Shannamara is in Matthews, while the rest lies in Stallings. A large neighborhood of beautiful homes of all types and prices, it wraps around The Divide Golf Club.
Great school choices right in town… you can relax! The public Butler High School has earned a great reputation in our school system for academics and community involvement. Crestdale Middle School fits the same mold and feeds into Butler. They're committed to starting the fire of lifelong learning. A couple of public elementary stand out in the Matthews community, Matthews Elementary School and Elizabeth Lane Elementary. Either would be a fine start to a kid's academic career. No discussion of Matthews school choices would be complete without mentioning Covenant Day School, committed to faith as well as academic excellence.
What usually attracts someone to a smaller suburban town is a sense of community. Here, Matthews does not disappoint. The Levine Senior Center is a great example, offering recreation, support, education, meals and so much more to members of 50 years or older at bargain pricing. Matthews has a large and active troop of the Boy Scouts for your young family members to join… that's Troop 39 to be exact. They do so much in the community here. There is even a local hardware store downtown that has stood the test of time and withstood, even complimented the large home supply stores… Renfrow Hardware. More than a hardware store, it is a gathering place and local landmark.
No shortage of fun things to do locally here, either. The bid entertainment event of the year is definitely Matthews Alive! The Labor Day weekend festival includes a parade, lots of live music, art exhibits, and food that the whole family will sink their teeth into. Outdoor sports more your bag? Then hustle out and join the Matthews Athletic & Recreation Association. It's tilted towards families and kids and they play at Arthur Goodman Park off Trade Street… top-notch facilities. I bet you prefer the arts? How about with a community-based twist? Then the Matthews Playhouse is where you will enjoy spending some time. They are a non-profit theater organization that invites adults and kids alike to come out, audition, and perform. If all of the excitement has tired you out and you just want to stay home on the computer, try iMatthews.com, a unique online community that presents a great opportunity to meet your neighbors online.
We have to talk about local restaurants. Let's start with a North Carolina tradition… barbecue. And Greg's Famous Bar-B-Q does it right! He also has seafood, Italian, steaks, something for everyone… take-out, too. A night out for food and friends would not be complete in Matthews without a visit to Beantown Tavern. It has earned the local distinction of being the place to go for pub food and sports. They cater to Boston sports fans… get it, Beantown! All fans are welcome. To start the day or finish the night after a good meal, you gotta visit The Coffee Garden. A real local coffee house and hangout, not like the chain guys. The coffee is the best!