Just across the state line south of Charlotte lies York County, South Carolina… a growing and attractive destination in the metro area. Great weather, lower property and income tax rates, and an easy commute north up I-77 to the big city make this area a top choice for relocation and natives alike. The county government site has specifics on taxes, demographics, and other important info. Also, check-in with the Visitors Bureau for more color about York County… but let me serve up below my slant on what to look for that may interest you.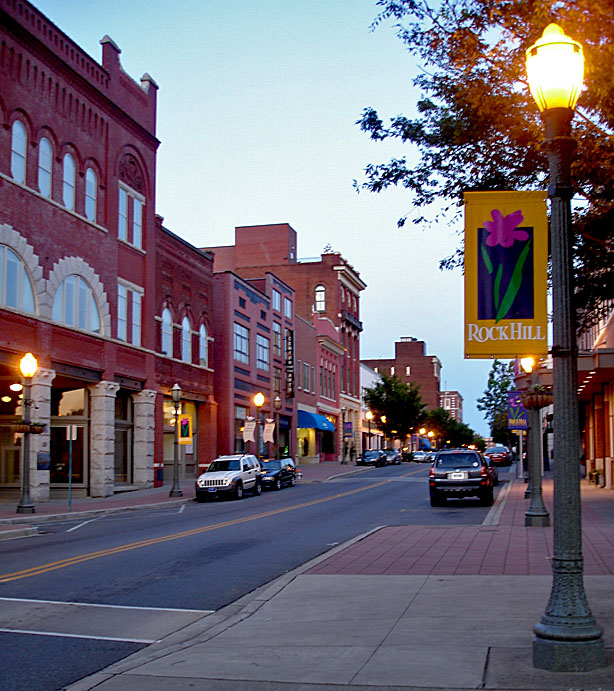 There are so many fine towns in which to live and work in York County… Fort Mill, Tega Cay, Rock Hill, York, and Lake Wylie to name a few. Rock Hill is the largest city in the county and is the best choice for those who want an urban setting. York, the county seat, was first known as Fergus's Crossroads and was settled by pioneers from York County, Pennsylvania… hence the name. They traced their founders to the English House of York whose emblem was a white rose. York is still nicknamed "the white rose city" today. Fort Mill is the closest of these towns to Charlotte and has attracted many home buyers because of its proximity and old mill town nostalgia. Tega Cay and Lake Wylie are both on the shores of the beautiful Catawba River watershed and offer the best in lake living.
The beginnings of York County center around cotton, textiles, railroads, and electric power generation. As in much of the South, cotton was king in this area, with plantations dotting the landscape and forming the economic backbone of the region. With the rise of technology in the nineteenth century that fathered the textile boom of that time, York was well-positioned to participate with its cultivation base and railroad connections. Mills sprang up everywhere and the boom fueled the area's growth. The Springs family of Springs Mills fame are still active in the community and probably the area's most visible benefactors. In 1881 the Rock Hill Cotton Factory became the first steam-powered cotton factory in South Carolina, ushering in a new era of agricultural expansion and industrial development.
Wars have also had their hand in shaping the history of the area. While the Civil War was hard on the South including York County, its Revolutionary War-era stories are celebrated to this day. York is home to Kings Mountain National Military Park. Thomas Jefferson called the battle that took place here in 1780, "The Turn of the tide of success." It was the first major patriot victory to occur after the British invasion of Charleston, SC in May 1780. The park preserves the site of this important battle. Please take the time to visit Bethel Presbyterian Church and its a historic cemetery to see the gravesites of patriots… a wonderful walk back in time! You can also experience living history, including the African American story, at Historic Brattonsville, a 775-acre Revolutionary War site owned and lived on by three generations of the Bratton family.
In 1904 the Catawba Dam and Power Plant were completed by the Catawba Power Company, forming present-day Lake Wylie. When finally completed, the dam and power plant were one of the most important engineering accomplishments in the southeastern United States. The venture eventually led to the formation of Duke Power Company, and a later series of dams and hydroelectric facilities were built on the Catawba in both North and South Carolina.
York County offers the home buyer so many choices as they relate to pricing, subdivision style, urban or off the beaten path. Great homes, great prices, low taxes, great schools, easy commutes… what else needs to be said. Unique offering buyers will want to hear about is Baxter Village in Fort Mill, a master-planned community that combines play spaces, live spaces, and workspaces—all walkable within the Village. Springfield in Fort Mill offers southern-style, luxury custom homes and efficient golf villas. Residents in this 640-acre development enjoy many outdoor living options with nearly half the community dedicated to open space, including walking trails, sidewalks, and parks. The "old guard" of area communities, River Hills offers homes ranging from affordable, cedar-sided condominiums and free-standing houses to spectacular lakeside private estates. An active Country Club, on-site service clubs, and strong volunteerism with local charities enhances community activities and spirit. Handsmill on Lake Wylie features rolling land to the water's edge, a naturally beautiful shoreline, gorgeous hardwoods, and gated security. New-construction opportunities on a desirable cove with only 50-foot buffers combine to make Handsmill a waterfront oasis. Handsmill also features the first green-built waterfront clubhouse to pursue LEED certification. You should also explore offerings in Laurel Creek, Waterford Glen, Mill Creek Falls, Serenity Point, Olde York Farms, the Coves on River Oaks, Silver Gull at Lake Shore, and Oakton… either by driving by listings, attending open houses, or online using the best free MLS search engine on the net!
Helping to support home values and the community, in general, are great school offerings for York County residents. York County public schools are widely recognized as one of the best public systems around for your family to attend. Fort Mill District Schools include Pleasant Knoll Elementary, Springfield Middle, and Fort Mill High School. Rock Hill District Schools include The Children's School at Sylvia Circle, Castle Heights Middle, and Northwestern High School. Clover District Schools include Bethany Elementary, Oakridge Middle, and Clover High School. You will not lack for good private and parochial school choices in York, either. Among these are St. Anne Catholic School and Westminster Catawba Christian School. And when they are all grown up?… then they can stay home and attend Winthrop University, Clinton Junior College, or York Technical College.
There are many large and small employers in the county thanks to the decades of growth in the metro region and because of ongoing efforts of the York County Regional Chamber of Commerce to recruit and retain businesses. Comporium is a name you will quickly get used to seeing in the area as they are one of the largest employers and providers of phone, wireless, cable tv, and security services around. The main campus and satellite centers of Piedmont Medical Center offer a broad range of services to help meet the health care needs of York, Chester, and Lancaster counties, including cardiac and cancer care as well as women's services. Founders Federal Credit Union banks York County with many locations offering checking, savings, CDs and mortgages. AME is a commercial contracting company that can design, build, relocate, lift, install, retrofit, reconfigure, or demolish just about anything you need. Stacy's Greenhouses, a wholesaler located in York SC in business for over 30 years, produces the highest quality pansies and perennials. They are considered the largest producer of perennials in the country! Stacy's is a major private employer in York County with more than 500 employees during the peak season.
When you want to get out, have some fun, get your blood flowing… York has got you covered. Put on your walking shoes and go to the Rock Hill Galleria Mall for shopping and people-watching. If a long walk or run outdoors next to nature is more to your liking, then try the Carolina Thread Trail, or at least parks in York that eventually will be "threaded" together if they are not already. Even more exciting? Or at least something the kids will find entertaining? Then look no further than Carowinds, the amusement park for all ages in the Charlotte metro area… great coasters including Carolina Cobra and Afterburn! OK, maybe just a Charlotte Knights baseball game when the sun goes down… the kids can run around and you can take it easy. Depending on the time of year, there is always a festival going on… try to catch Christmasville Rock Hill, the Clover Scottish Games, the Come See Me Festival, the Fort Mill Thunder Car Show, or the Patchwork Tales Storytelling Festival.
If history and the finer arts are more your speed for an adult night out or to enlighten the kids, then York County can do that, too. Go to one of the Culture & Heritage Museum sites, like the Museum of York County or the Settlemyre Planetarium. Fun for the whole family for sure is the Hilton Pond Center for Piedmont Natural History, whose mission it is to conserve animals, plants, habitats, and other natural components of the Piedmont Region of the eastern United States through observation, scientific study, and education for students of all ages. Live theater is available for you at the Rock Hill Community Theatre or the Sylvia Theater.
Food! Yes, I like it, too. So there are good franchise places around to eat at, like Beef O' Brady's or ice cream at Bruster's, but you want local joints… one-off places that are unique and special. Then let's go get a steak or crab cakes at Harry & Jean's where they serve "passionate American food." Try the Passion 8 Bistro for real Italian and great wines… plan on taking your time. Or hit Carlos Cafe for Cuban to die for! The White Horse is an institution around these parts for its casual foods and for being a local gathering place. But is you want down-home, then you MUST go to The River Rat for fish camp and Courtney's for barbecue, end of story! If you just want to put your sandals on and bring your netbook along for coffee, tea, or fresh-squeezed juice, then hit BacInTyme Coffee Cafe or Holy Grounds Cafe… read the Enquirer-Herald or Fort Mill Times online and hang.
There are so many great churches in the county that are long-established and active in the community. Here they are in list form. Spend some time on their sites to help you find a new place to worship or just a church to visit: Bethel Presbyterian, Bethesda Presbyterian, Bullock Creek Presbyterian (I know, but remember the area was established originally by Scot-Irish settlers!), First Baptist Church of Rock Hill, Oakland Baptist Church, Manchester Creek Community Church, St. Anne Parrish, Grace Lutheran Church, Church of Christ at Golf Hill Road, Church of the Nazarene, and All Nations Church.