Like a center of a wagon wheel on spokes between Lake Lure, Asheville, and Grandfather Mountain, McDowell County is the perfect place to stay for a North Carolina Mountain vacation. There is much to see and do here, besides the proximity to other mountain adventures. Part of the Blue Ridge National Heritage Area, McDowell offers mountain arts and crafts, music and song, and access to magnificent natural resources. McDowell is three-quarters forested land, of which 67,000 acres reside in the Pisgah National Forest. The beauty of the scenery complements the history of this Catawba River Valley, which was settled in the early 1700's. The "Overmountain Men" marched in this area during the Revolutionary War. Gold production was king in the early 1800's, and mines (for gems as well) dot the county.
The two main towns, Marion and Old Fort, have antique shops, restaurants, a movie theater, bowling lanes, shops, grocery stores, and seasonal festivities. The Carson House (1793) in Pleasant Gardens offers insight into the area's historical significance, as does Old Fort's Mountain Gateway Museum. Andrew's Geyser is a few minutes from the Arrowhead at the center of town. There are historic train stations in both cites, and Old Fort's contains a train museum. The Trainwatcher Café is across the street.
Reconstruction of a pioneer-day fort, Fort Davidson, is underway and hosted the fifth annual Civil War event May 31-June 1. Lake James State Park boasts a 6,510 acre lake for water activities. Below, I will offer highlights of the area.
Lake James
Swimming off a sandy beach, with restrooms, grills and picnic tables nearby makes this a perfect picnic location. A large shelter for use by groups is also available. Campsites are also offered on a first-come basis. Two boat ramps allow access for boats, and marinas have canoe rentals, bait, and food for sale.
Fishing for largemouth bass is a special treat from April through October. Walleye is a prized game fish in the lake. May through July is great for crappie. White bass, bluegill, robin and catfish are good fishing year-round. You might also catch muskellunge, bream, sunfish or perch. Our rivers are stocked with trout as well. Follow shoreline trails to overlooks from the campground, or take a scheduled nature hike with the ranger. McDowell County also has many hiking trails and waterfalls (Tom's Creek and Catawba Falls). The most famous of our waterfalls is:
Linville Falls: The most popular Blue Ridge mountain waterfall, with three levels of pools before it plunges into the Linville Gorge. It is an easy walk to the falls, but a bit more difficult to do the Gorge Trail. Spectacular views and free access! On the way to or from the falls, stop at
Linville Caverns: Trout live in these beautiful dolomite and limestone caverns filled with stalactites and stalagmites. The constant temperature of 52 degrees makes it a great place to visit on a summer's day! The fee is minimal for a half our guided tour.
The Orchard at Altapass: A step back into time, with music, arts and crafts, and old-fashioned hay rides including stories of Revolutionary days. Artisan demonstrations and fun for the whole family.
Little Switzerland: Off the parkway is a little bit of Europe. Near Mt. Mitchell is the Switzerland Inn and Chalet Restaurant, surrounded by galleries and shops. Friday nights offer a seafood buffet.
Shopping
While in Old Fort, visit Talis Gallery in the Appalachian Artisan Society Gallery for eclectic art, beads, photography and sandwiches. Turtle Creek Pottery is a short jaunt up Bat Cave road. In Marion, Main Street offers bookstores, antiques, auctions and the McDowell County Arts Council. Whatever you do, don't miss the art for sale at Creative Framing adjacent to the Crooked Door Coffee House (upstairs near the pavilion).
Restaurants
Fast food and chain restaurants such as Fatz and Sonic Drive-in dot 70 Highway. Bar-b-q, steaks, seafood, Italian, Chinese and Mexican restaurants supply a variety of fare. In Pleasant Gardens, half-way between Old Fort and Marion, treat yourself to dinner or lunch at Little Sienna, a wonderful, real Italian restaurant. It also sports a daily and evening buffet. Brown bagging is allowed, so don't forget your favorite bottle of vino to compliment your meal! In the City of Marion, you can get wine by the glass or bottle at Wine Ruels.
Their lunch and dinner menu is upscale and delicious—a gourmet treat! Jazz or blues performances are seasonal on the weekends. Carolina Chocolatiers also offers bottles of wine and wine by the glass with your lunch sandwiches, specials or salads. On Sunday, experience a low-country buffet from 11-2. Bruce's Fabulous Foods also resides on Main Street and serves lunch. It is the home of 101 cheesecakes—try the key lime, my personal favorite!
Music and Entertainment
Friday nights in Old Fort jam, dance or listen to good old country music (free admission) at Old Fort Mountain Music on 70 Highway. Or go to Shehan's Auction for mountain bargains on Saturday night. First Friday outdoor concerts play on Main Street in downtown Marion beginning in May into September. Community Theater is available from MACA in Marion throughout the year. Ivan's Bar and restaurant host live bands on Friday and Saturday evenings.
Golf: at the Blue Ridge Country Club, the Marion Lake Club, or the Old Fort Golf Course.
The Blue Ridge Mountains and Mount Mitchell: bordering the northern edge of McDowell County is the Blue Ridge Parkway. Fall is unbelievable! And, the tallest mountain on the Eastern Seaboard, Mt. Mitchell (6,684 feet) is a close drive just outside the county and has an observation platform and weather information, as well as a seasonal restaurant. There is no charge to enter the area. Along the parkway you can see the many gemstones found in the area at the North Carolina Mineral Museum.
Grandfather Mountain
Although not in McDowell County, the Grandfather is my favorite outdoor location, (besides Eco Cove!) Only an hour away from Marion (with Linville Caverns and Falls located on the drive up to it) Grandfather Mountain is the oldest mountain in the U.S. Its elevation is 5,964 feet, and it is privately owned. Admission is charged, but worth every penny. Spring and fall are the best seasons, as the bears, cougars, otters, deer and eagles in the nature preserve are active at these times. There is a museum and theater adjacent to a café, and the view from the "Mile-High Swinging Bridge" is fabulous.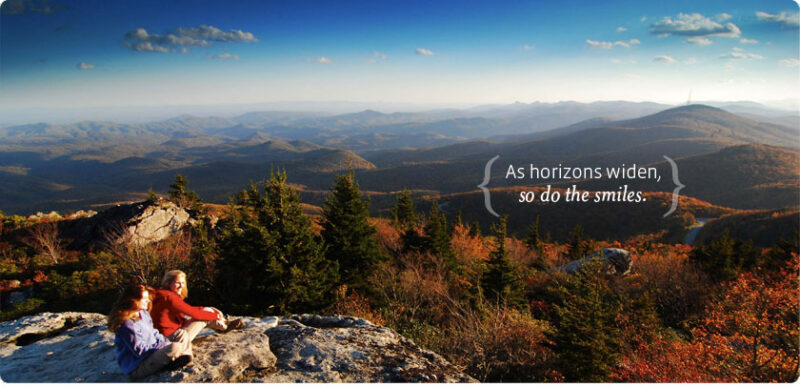 In 1992, Grandfather Mountain was designated as a U.N. Biosphere Reserve, one of 507 sites in 102 countries to be so named (as of 2007). There are 16 different habitat types on the 4,000 acre preserve which represents the most diverse flora and fauna in the Southeast. There are four categories that have to be met to be designated a U.N. Biosphere Reserve—it has global and ecological significance, legal protection from development, a history of scientific study, and provisions for public education. Grandfather Mountain is a wonderful place to spend the day hiking and seeing the animals.
Festivals and Special Events
The NC Gold Festival at Tom Johnson's Camping Center in Pleasant Gardens and Pioneer Day in Old Fort are both in April. The Blue Ridge Native American Pow-Wow is in May. Both towns have July Fourth parades and fireworks. Folkmoot USA International Folk Festival schedules a show in Marion in July. Octoberfest in Old Fort and the Mountain Glory Festival in Marion bring in the fall, offering arts, crafts, food, music and fun! More art is for sale in December at the Appalachian Potters Market and McDowell Artisans Show. And don't forget our Christmas parades!