I'm lucky. My husband 'gets' me. Like, really 'gets' me. He knows that I am a sucker for "techno-cooking", using new and sometimes strange appliances to make food for my family. It keeps it interesting around here!
Last month he bought me a Purify Air Fryer
by Black & Decker for one of my Christmas gifts. I could not WAIT to use it!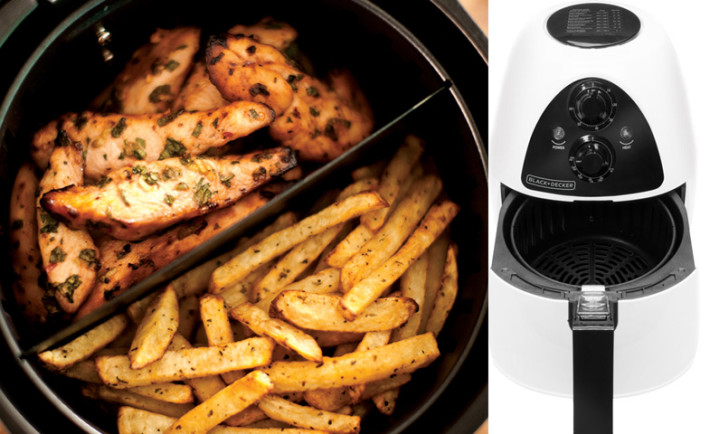 Originally from Atlanta, Georgia, I grew up on crispy, crunchy deliciousness but I hate the mess-probably more than the unhealthy aspect, to be honest. That's what originally got us thinking about an air fryer a few months ago, but with our big Halloween party that we planned for months, Thanksgiving, and hubby's impromptu hospital stay in October/November (you don't even want to know!), I forgot about them completely. Lucky me, he didn't!
This Air Fryer
is marketed for healthier frying, which it does do-and do well, but we use it for so much more!
Breakfast time is so hectic-and my kids won't eat cereal, eggs, or toaster pastries-so I use it to fry my sausage, bacon, or smoked sausage-while I go do something else and it comes out better than if I fried it on the stovetop. Everything is crispy on the outside, tender on the inside and the smoked sausage is so perfectly caramelized! Oh, and those little smokies sausages come out so good that you may eat them all before the guests arrive-and I normally never even eat those! Just put them in, turn the timer dial to 20 and the temp to 400 (which I just leave it on) and after about 8 minutes stir the meat around with tongs and stick it back in and check every 5 minutes until it's done to your preference. Ours is usually perfect by 10-13 minutes.
Other items that we have tested in our Purify Air Fryer
, with fantastic results are Fish sticks, pizza rolls, frozen tater tots, egg rolls, pita cheese melt (the basket is just about the same size as a piece of pita bread in diameter), fried ham, carnitas, mozzarella sticks, chicken fingers, frozen fries, frozen hash brown patties, french toast sticks, gyro meat, leftover meat (reheats and makes it taste like it was just cooked), hot dogs (soooooo much tastier than boiling), hot links, pigs in a blanket, pot stickers (brush with oil first), shrimp, lamb-so much good stuff!
Even if the food that you are cooking makes grease, like bacon, the basket elevates the meat and keeps the oil separate-which is great if you need to reserve your bacon fat for a recipe later (hey y'all to all my old school southern cooks!

).
On top of being a huge help when you want crispy food quickly, this fryer also cooks without making a lot of stinky smells in your home. Don't you just hate frying sausage or bacon and then getting a whiff of the fried meat smell on you later? Not a problem here-and no smoky smells either there's barely a smell at all.
Black & Decker – PuriFry Air Fryer, HF100WD
The Purify Air Fryer
is cute, fast, works as described, affordable, and easy to use. It's kind of like having a microwave that makes things crispy and caramelized without you having to hover. We love our more than words can say-and our next thing to try in it is going to be Buffalo Wings! I'll let you know how they turn out.