Traditional Thanksgiving Recipes Made Easy
Thanksgiving dinner is almost here, and with it comes a lot of stress, especially if you're hosting what is traditionally the biggest feast of the year. Cleaning, menu planning, grocery shopping, table setting—it all feels overwhelming, and we haven't even begun to prepare those delicious Thanksgiving dishes! The holidays are a wonderful time to spend with family and friends, reflect on what you are grateful for in your life, and even laugh at a funny meme or two. Thanksgiving has a reputation for being all about eating turkey and watching football, but what really matters is creating memories, not cooking all day. While there is often a lot of pressure on the meal, we've discovered that some of the best recipes are the simplest, so we decided to compile a list of easy Thanksgiving recipes that will keep everyone full and happy, including you, our favorite Charlotte Mom!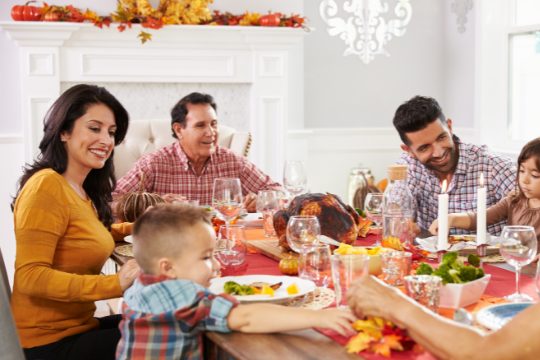 If this is your first Thanksgiving, or your first Thanksgiving alone, you'll appreciate these tried-and-true Thanksgiving recipes, which include everything from appetizers to main dishes, side dishes, and desserts. These recipes all have one thing in common: they are simple to make, use common ingredients, and are absolutely delicious. In addition, as a courtesy, we've included a few pointers and tricks in the notes. Thanksgiving is the ideal opportunity to spend time with friends, family, and loved ones. Don't forget, tasty sides make the meal! Choose a few to try, or all of them, and prepare your simplest Thanksgiving feast!
Slow Cooker Turkey Breast

 
There's no hard and fast rule that says you have to roast a whole bird for Thanksgiving, especially if you're cooking for the first time or for a small group. Cook a turkey breast instead of biting off more than you can chew (figuratively and literally). This recipe requires only three ingredients: a turkey breast, a packet of seasonings, and a slow cooker. The meal practically cooks itself after that!
Ingredients:
1 (6 pound) bone-in turkey breast
1 (1 ounce) envelope dry onion soup mix
Directions:
Wash and pat dry the turkey breast. Remove any excess skin while leaving the skin that covers the breast intact. Rub the onion soup mix all over the outside and inside of the turkey.
In a slow cooker, combine all of the ingredients. Cook for 1 hour on High, then 7 hours on Low.
Deviled Eggs
In just minutes, you can have perfect deviled eggs with a creamy, savory filling and a hint of tang ready to serve. These are the ideal Thanksgiving side dish!
Ingredients:
12 large hard-boiled eggs, peeled
⅓ cup mayonnaise
1 tablespoon pickle relish
1 teaspoon Dijon mustard
1 teaspoon yellow mustard
1 teaspoon apple cider vinegar
½ teaspoon salt
¼ teaspoon ground black pepper
1 teaspoon ground paprika
Directions:
Cut eggs in half lengthwise and scoop out the yolks. Set aside the whites and place the yolks in a medium mixing bowl. 
With a fork, mash the yolks. Stir in the mayonnaise, relish, Dijon mustard, yellow mustard, vinegar, salt, and pepper until well combined and smooth. Place in a large zip-top bag. 
Arrange egg whites on a serving tray. Snip the zip-top bag's bottom corner. Fill about 1 1/2 to 2 teaspoons of filling into each white. Garnish with paprika.
Homemade Cranberry Sauce
Thanksgiving isn't complete without fresh cranberry sauce! This delightfully tart and tangy side perfectly balances all of our favorite Thanksgiving flavors. Don't be intimidated by the prospect of making your own cranberry sauce. Make this simple cranberry sauce the night before and check it off your to-do list. Thanksgiving cranberry sauce on a leftover sandwich, it goes without saying, is something to look forward to all year.
Ingredients:
1 bag cranberries (12 Oz. Bag)
1 cup cranberry juice (or Orange, Apple Or Any Other Juice Combination)
1 cup pure maple syrup (not Pancake Syrup!)
3 tablespoons juice (you Could Also Do Orange Zest, Lemon Zest, Lemon Juice – Anything Citrusy)
Directions:
Wash the cranberries in cool water, then place them in a medium saucepan. 
Add 1 cup of cranberry juice (or whatever juice you choose). 
Add 1 cup maple syrup. 
Add orange juice (or orange zest, lemon zest, lemon juice, or anything citrusy). 
Stir everything together and bring to a boil over high heat. 
When it reaches a rolling boil, reduce the heat to medium low and continue to cook for about 10 minutes, or until the juice thickens. Turn off the heat, and if you're concerned about aesthetics, remove the foam from the top of the mixture.
Remove from the heat and pour in a jar to cool.  Just store the jar in the fridge until you're ready to serve the turkey!
The BEST Stuffing
This from-scratch traditional stuffing recipe is a true classic. It's a simple stuffing made with simple ingredients that's perfect for a Thanksgiving feast or as a side dish to chicken or pork.
Ingredients:
1 cup (2 sticks) butter
2 cups chopped celery
1 cup chopped onion
2 teaspoons Thyme Leaves
1 1/2 teaspoons Poultry Seasoning
1 teaspoon Seasoned Salt
1/2 teaspoon Ground Pepper Black
12 cups dry unseasoned bread cubes
4 cups chicken broth
Directions:
Preheat oven to 375°F. Melt butter in large skillet on medium heat. Add celery and onion; cook and stir 5 minutes. Stir in thyme, poultry seasoning, seasoned salt and pepper.
Place bread cubes in large bowl. Add celery mixture and broth; toss gently until well mixed. Spoon into lightly greased 13×9-inch baking dish.Bake 35 minutes or until heated through and lightly browned.
Mashed Potatoes
There is nothing better than a heaping serving of creamy and delicious mashed potatoes on Thanksgiving. This is an essential mashed potato recipe at holiday gatherings smothered in gravy or butter.
Ingredients:
3 lb. mixed potatoes, such as russets & Yukon Golds
Kosher salt
1/2 c. (1 stick) butter, plus 2 tablespoons for garnish
1/2 c. milk
1/2 c. sour cream
Freshly ground black pepper
Directions: 
Cover potatoes with water in a large pot and season generously with salt. Bring to a boil and cook for 16 to 18 minutes, or until completely soft. Return potatoes to pot after draining. 
Mash potatoes with a potato masher until smooth. 
Meanwhile, warm the butter and milk in a small saucepan. 
Pour over warm milk-butter mixture and stir until smooth and creamy. Stir in the sour cream until well combined. 
Season the mashed potatoes with salt and pepper to taste. 
Place the potatoes in a serving bowl and top with the remaining two tablespoons butter. Before serving, season with more pepper.
Green Bean Casserole
A casserole is a classic American comfort food that is simple to prepare. At your next holiday gathering, serve one of the best variations on green bean casserole.
Ingredients:
Kosher salt
1 1/2 pounds green beans, trimmed and halved crosswise
2 tablespoons unsalted butter
1 medium onion, diced
1/2 pound button mushrooms, sliced
2 tablespoons all-purpose flour
2 cups low-sodium chicken broth
1/2 cup half-and-half
Freshly ground black pepper
1 1/2 cups prepared fried onions
Directions:
Bring a large pot of salted water to a boil over high heat. Cook until the green beans are bright green and crisp-tender, about 10 minutes. Set aside after draining and shaking off excess moisture.
In a medium saucepan over medium heat, melt the butter. Cook, stirring constantly, until the onions are soft, about 8 minutes. Cook, stirring constantly, for about 10 minutes, or until the mushrooms are soft and most of their liquid has evaporated. Sprinkle the flour over the vegetables and stir for 1 minute, or until all of the flour has been absorbed. Combine the chicken broth, half-and-half, 3/4 teaspoon salt, and several grinds of pepper in a mixing bowl. Bring to a boil, then reduce to a simmer and cook, stirring occasionally, for 5 minutes, or until the sauce thickens and coats the back of a spoon. Remove the pot from the heat and stir in the green beans to coat in the sauce. Transfer the mixture to a 3-quart baking dish.
Allow the casserole to cool to room temperature before serving. Wrap tightly in plastic wrap and foil, label, and freeze for up to 2 weeks.
Preheat the oven to 350°F before serving. Remove the frozen casserole's plastic wrap and foil. Cover with new foil and bake for 45 minutes, or until thoroughly warmed. Remove the cover and top with the fried onions. Bake for another 20 minutes, or until the casserole is hot and bubbly and the onions have crisped slightly.
Instead of freezing, you can of course serve immediately. Simply top the green bean mixture with fried onions and bake for 25 to 30 minutes, or until the casserole is hot and bubbly and the onions have crisped slightly.

Thanksgiving meals don't have to be complicated
"Gratitude is the inward feeling of kindness received. Thankfulness is the natural impulse to express that feeling. Thanksgiving is the following of that impulse." – Henry Van Dyke
Thanksgiving is quickly approaching, and it's time for family to spend some quality time together and enjoy some delectable dishes. Spending Thanksgiving with a family member can be more enjoyable with some preparation. Cut yourself some slack and make your life a little easier with these simple Thanksgiving recipes. Do you have a favorite easy Thanksgiving dish? Please let us know in the comments section below.
Are you searching for a unique, crowd pleasing desert recipe? Please check out these five cupcake recipes to make right now!