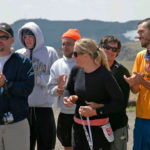 When it comes to having dates out together, one of my favorites that my hubbie and I do is some type of workout activity. We've been active together from the very beginning, and since life has been as busy as it has, it's amazing to get a workout in with him instead of leaving for another 30 minutes or an hour to do my own run. I'd much rather do it with him by my side. 🙂 I wanted to share my 10 favorites ways to workout and spend time together, killing two birds with one stone! (I really don't know why I just said that actually–it's not my favorite expression. Killing birds = hateful, but you get the picture).
1. Train for and run a race together.
This is actually my husband's least favorite, and I'm not sure I'll ever get him to do one again (besides maybe a Zombie run–he seems to think that would be fun). He ran high school cross country, and he was good at it, but he's now under the impression that running is a horrible thing. Ugh… men!
2. Play tennis.
This is such a cheap and great thing to do on a sunny day (tennis balls and a cheap racket from Wal-Mart/Target and high school courts for free!), and best part, you don't have to be good. You'll get exercise chasing down the tennis balls if you're not great at it. Like us… ha!
3. Go for a long bike ride.
There are so many amazing trails by us, and this has been our favorite activity lately. The only thing we aren't as fond of is that it's hard to take Honey with us. She came once, but she was exhausted running beside us! Ha, guess we need to get her a dog carrier. 🙂
4. Go for hikes.
Whether you live by mountains, hills, lakes, rivers, whatever, there are always places to go for hikes. The hiking paths are much different here than they were in Missouri, but especially if you're needing a little perspective, this is an amazing activity and so great to do together!
5. Go skiing or snowboarding!
Yeah, I might be a little partial to this one now that we live in the best area for snow in the country, as they say, but it's a great workout (may not seem like it, but your legs will remind you after), and it's so much fun.
6. Play 1-on-1 or shoot hoops.
I wish we had a basketball goal of our own because I could see us doing that together all the time (but there are always parks!). It's always one of our favorite activities to do when we visit my parents with my siblings!
7. Go for long walks with the pup or alone!
We like to find places that are in walking distance that we can stop by, like Starbucks (one of us goes in while the other stays with Honey) or our favorite shaved ice stand, and then walk there together. It may make it a long walk, but it's also a fun date night!
8. Play Frisbee Golf.
This may be a little difficult, but there are a ton of fun frisbee golf parks out there–you just have to find them! I am horrible at this, but it's a lot of fun, and there are tons of laughs involved when I can't throw a frisbee!
9. Play in a rec league together.
My favorite sport to play with a team is softball. I've always loved that sport more than anything, so we are constantly on the look out for a rec league with games that will work for our opposite schedules!
10. Lift weights/design personalized training programs for each other
This is something that I want my husband and I to do more! We are eating healthier and definitely noticing a change, but I think we would both benefit by giving each other tips in the areas that we could improve and helping design exercises for each other. Then supporting the other as we do them. 🙂 I try to go to the gym at least twice a week and do my own set of exercises, but I would enjoy it more and not feel so guilty leaving when he's home if we did this together, too!
What are your favorite activities to do together? There are so many other ideas, like playing golf or swimming, that may be more up your alley, and I'd love to hear all of your suggestions!