Castles have always held a certain appeal for young girls. These stones structures have a fairy tale quality from their moats to their turrets and towers reinforced in no small measure by the fairy tales of Cinderella, Belle, and Aurora on which most little girls grew up on. Beautiful princesses live in these castles supported by their loving families and beloved by their handsome princesses.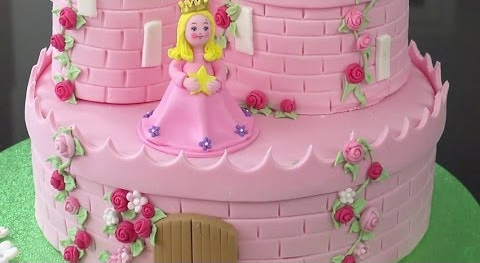 Very few parents can actually provide for true castles for their little girls, for obvious reasons, indeed. But why let your little girl's fantasy come crashing down so easily? You have the benefit of making castle cakes for girls or even boys yourself now!
These castle cakes are just as their name implies – an edible cake shaped into a castle complete with the moat, towers, and turrets while your little girl can pretend that the pretty figurine inside the castle is none other than herself as the princess. And you don't even have to spend hours upon hours slaving away at the oven just to make the prettiest castle cake for your little's girl's birthday. Here are a few ideas.
Buy two ready-baked round Madeira cakes in 10″ and 8″ diameter. Layer these two cakes, place pink buttercream icing over the cakes and then place sweet candy in various shapes to make the windows, doors, and other trimmings. For the towers, use baked bean tins while the spires are made from cones, all of which are covered in buttercream icing as well.
Buy two square cakes in your little girl's favorite flavor in two different sizes, which will then be layered and covered in the desired icing. Use inverted sugar cones for the turrets, skinny birthday candles for the flag poles, and various candies for the details. Add in candy creatures depending on the theme.
Indeed, why spend hours on a castle cake when there are many ready-to-use ingredients in the supermarket? Baked cakes, canned icing, and other edible materials can be assembled, and voila! You have a castle cake that will delight your daughter and her party guests.
If you want to try and make the cake using a mold, we recommend the Wilton Castle Cake Set found at Amazon.com, Walmart, or K-Mart. It uses several plastic stands so you can easily create the castle towers with ease. Be sure to check out the user photos- some really neat ideas for princess castle cakes, and even castle cakes for boys! Be sure to check out the video below if you want to do the entire thing from scratch- this video shows a great way to make a beautiful cake pretty easy.
Most little girls love the idea of dressing up like a princess. If your daughter's birthday is coming up soon, why not consider allowing her to be a princess for a day along with all her little friends. The princess theme is an easy one to plan out, with many different ideas to use for this type of party. Of course, you'll definitely want to make sure that you have a beautiful princess castle cake to be the center of attention for the party.
The Long Road Princess Castle Cake
Princess castle cakes are so adorable and any little girl is going to be thrilled when she sees a beautiful castle for her cake. These cakes make use of pinks, purples, and other girly colors and they definitely bring to life the princess theme, adding even more excitement to the party you are throwing for your little girl. You can add other great foods on the side to go with the cake and complete the princess treats.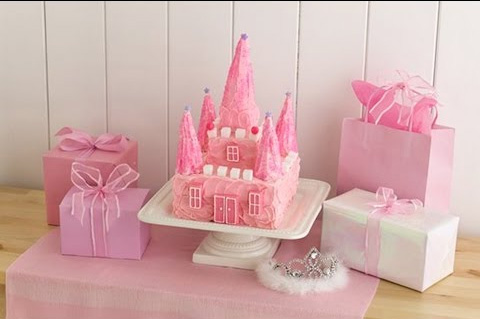 Pretty in Pink Castle Cake
Although you can purchase princess castle cakes for girls, it can be a lot of fun to make one on your own for your daughter. It's also significantly cheaper to make the cake yourself. The good news is that it doesn't have to be difficult to make these cakes. If you're really creative, you can come up with the entire design on your own and then create it. However, if you're not sure where to begin, you can purchase castle-shaped cake pans to help you create the cake of your daughter's dreams.
Perfectly Enchanted in Pink Castle Cake
Have fun with the cake when you're making it as well. Use other foods to help build the castle. Castle towers can be easily made with sugar cones turned upside down. Glitter sugar can be used to make the castle sparkle. Various other candies can be used to add even more to the beautiful castle cake.
Enchanted Castle Cake
It's a good idea to keep the princess castle cake concealed until the last minute. Then you have the pleasure of bringing out the cake so you can see your daughter's excitement when she first sees it. Her reaction is sure to make the hard work you did well worth it.