Dinosaurs have invaded Charlotte Motor Speedway!
Dinosaurs are making an exciting comeback at zMax Dragway at Charlotte Motor Speedway in Concord, North Carolina, February 12th- 21st, 2021. Jurassic Quest is a must-see event for kids, parents, and dinosaur lovers of all ages that live in Charlotte, NC, and the surrounding areas. This one-of-a-kind drive-thru experience is currently roaring across America, not surprisingly leaving in its wake numerous sold-out events. I recently saw that on Jimmy Kimmel Live! Mila Kunas recommended Jurassic Quest to her sister-in-law. We had to check it out for ourselves, and are glad we did! You can watch our Facebook Live from the zMaxDragway here.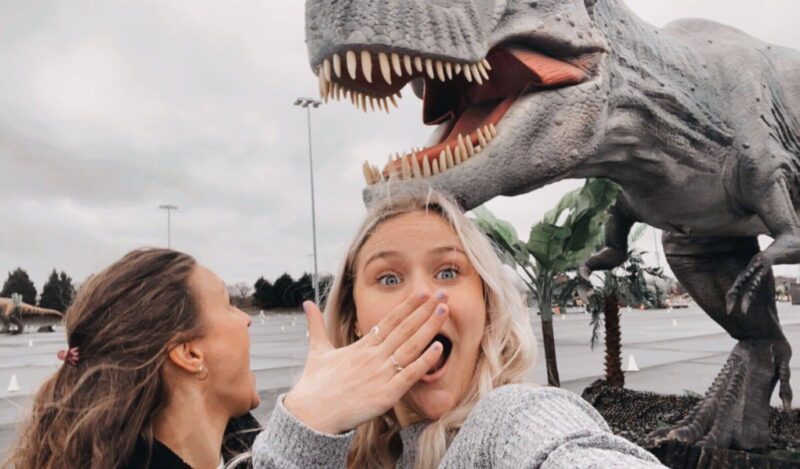 Jurassic Quest Charlotte
Since the beginning of the pandemic, Charlotte Motor Speedway has hosted many popular drive-in and drive-thru events. I am anticipating a sold-out event for Jurassic Quest at zMax Dragway. More than three hundred thousand vehicles and one and a half million people have experienced the Jurassic Quest Drive-Thru and are raving about it. Don't forget to buy your ticket early so that you won't have to miss it! Continue reading for more details about the event and other logistics.
The word paleontology might not sound very interesting, but it would be pretty tricky to find a child that's not interested in dinosaurs at some level. There are many well-known benefits of introducing children to dinosaurs, and lately, it seems they are more popular than ever. I must admit that Dinosaur Train is one of my favorite shows to watch with my toddler. My older children were always fascinated with the fluffier Barney as he sang and danced across our screen. Although dinosaurs are very popular with many people, most individuals know very little about fossils and their ancient origins.
Sign up for Specials & Promotions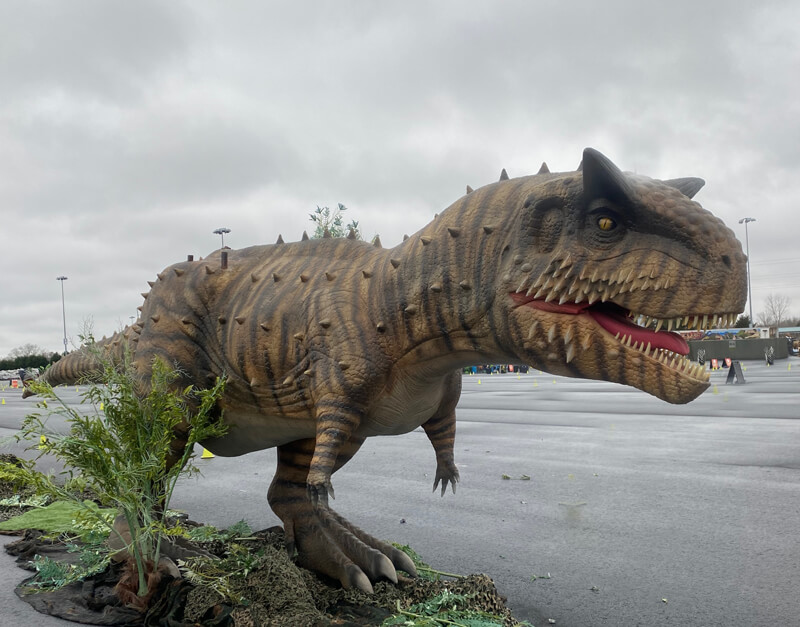 Since dinosaurs were different from anything alive today, humans are continually learning more about how they lived and moved. We recommend listening to the audio included with your tour to hear all of the essential facts about featured dinosaurs from the Triassic, Jurassic, and Cretaceous periods. Paleontologists used fossil evidence to discover how long-extinct animals lived and behaved. Even the littlest adventurer will have a great time seeing dinosaurs come to life at the outdoor parking area of zMax Dragway.
Most kids go through a "dinosaur phase" when they can't get enough of dinosaurs. The most likely explanation for why kids are fascinated by Tyrannosaurus Rex and his dino friends is because they are no longer around. These huge, dangerous reptiles went extinct over 65 million years ago. Before Jurassic Quest, dinosaur lovers were limited to museums, movies, books, and TV to satisfy their obsession with these colorful giants. Yellow cones will guide you around each painstakingly created animatronic installation. The speed limit is only 5 mph, and don't forget to watch out for the swinging tail of the 50 foot-long Spinosaurus!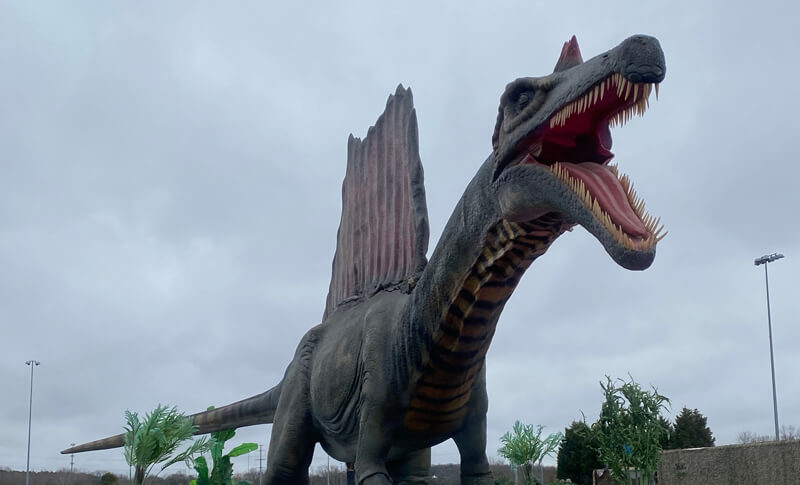 The Jurassic Quest Drive-Thru is the only place to encounter some of your favorite dinosaurs that you've always wanted to see in person. These unique dinos range from the very small, to the gigantic, to those found under the sea. View the eeriest marine creatures ever to lurk the ocean's depths. Not only do the dinosaur move realistically, but you can also visit with an adorable baby dinosaur.
A ticket allows up to 8 passengers around 1 hour of fun-filled entertainment along with an exciting audio tour. Take advantage of the opportunity to purchase souvenirs without exiting your vehicle toward the end of your visit. A Jurassic Quest staff member will also take a "We Survived Jurassic Quest 2021!" captioned photo of your passengers and car before leaving. You can download your picture using the URL and code provided. One per family included with ticket purchase.

February 12- 21, 2021. Closed Monday and Tuesdays. Tickets are $49 for each vehicle with up to eight individuals and $80 for nine or more individuals in your vehicle.
Dragway Pits – 6570 Bruton Smith Blvd, Concord, NC 28027
Police, Military, Medical Personnel and First Responders save 10% off (Must Show Valid ID)
The audio tour is available in English and Spanish, and special accommodations can be made for the hearing impaired.
COVID-19 PRECAUTIONS
Jurassic Quest takes extra precautionary measures to provide a clean and safe event and operates under COVID-19 safety protocols in accordance with county, state, and CDC guidelines. Guests are to remain in vehicles and to wear masks in the event they exit the vehicle in allowed areas. Social distancing rules are requested of all guests and maintained by the Jurassic Quest crew. We sanitize equipment, dinosaurs, and workstations frequently and thoroughly throughout the entirety of the event. Our employees apply hand sanitizer and wash hands regularly throughout each day, in addition to wearing masks. Guest safety and enjoyment is our top priority.
*We were allowed to exit our vehicle for pictures as part of a special press preview.
TICKETS & LOGISTICS
Jurassic Quest Drive-Thru adventurers will need to buy tickets in advance online at www.jurassicquest.com. Tickets are $49 per vehicle and include a 100% ticket guarantee that in the event of a show cancellation or postponement for any reason, ticket purchases will be automatically refunded for the full purchase amount. Guests must travel through the drive-thru in the comfort of their own vehicle – no rentals or golf carts will be provided, and walkers are not allowed. To ensure participant safety, all guests must ride inside their vehicles (yes, pets inside vehicles are allowed), no riders in truck beds, however. Trailers are also not allowed – we're worried they might tempt the hungry dinos too much! Oversized vehicles and vehicles with 9 or more riders are permitted but will need to contact Customer Service, customerservice@jurassicquest.com, for pricing and scheduling. A full list of Frequently Asked Questions can be found online at https://www.jurassicquest.com/drive-thru-faqs.