Grandfather Mountain Guide
Grandfather Mountain is renowned throughout the southern Appalachians. And deservedly so. As the highest peak in the Blue Ridge, the first line of mountains that one encounters when heading west out of Piedmont, it has been a destination for naturalists for over 200 years. Naturalists Andre Michaux and John Muir visited here 104 years apart.
Rising nearly 4000 feet above the Yadkin and Catawba River valleys, Grandfather supports 16 distinct habitat types in less than 5,000 acres, including Red Spruce-Fraser Fir Forests, heath balds, northern hardwood forests, and high elevation rocky summits.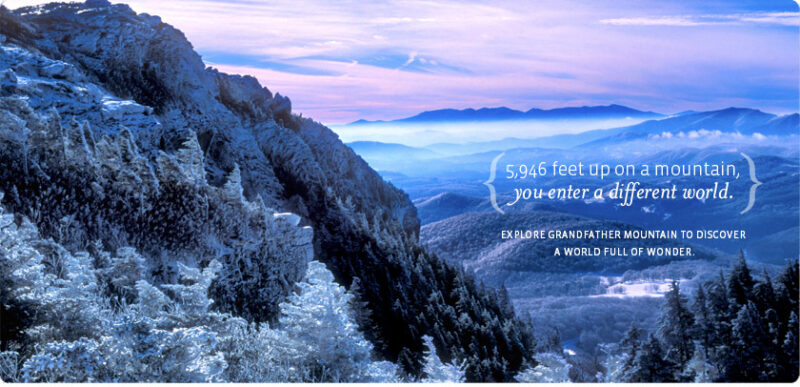 Unfortunately, Grandfather's high altitude spruce-fir forests are suffering from the same one-two punch of air pollution and exotic insects that has decimated these forests throughout the southern Appalachians. Additionally, the northern hardwoods growing at altitudes above 5400 feet, such as birch, buckeye, and black cherry are also dying at unusually high rates. Count the dead hardwoods as you hike up the Calloway Trail from Shanty Spring to the Grandfather Trail.
Shanty Spring
Shanty Spring takes its name from an old logger's cabin, or shanty, that stood just below the present-day spring. Yes, part of the western slope of Grandfather has logged about 80 years ago. But Grandfather Mountain will never be commercially logged again. It is held in trust by the Nature Conservancy. Additionally, Grandfather Mountain was approved by the UN's Man and the Biosphere Program as an International Biosphere Reserve in November of 1992. It is the first privately owned commercial property in the program, which in the summer of 1999 included 352 sites in 87 countries. Grandfather Mountain maintains 12 miles of trails that criss-cross the 3000 acre Nature Conservancy preserve.
One Highly Significant Place
Grandfather Mountain creates a sense of wonder. After all, the base rock that pokes through to form cliffs and crags is over a billion years old, part of a mountain range that predates the Alps and the Himalayas.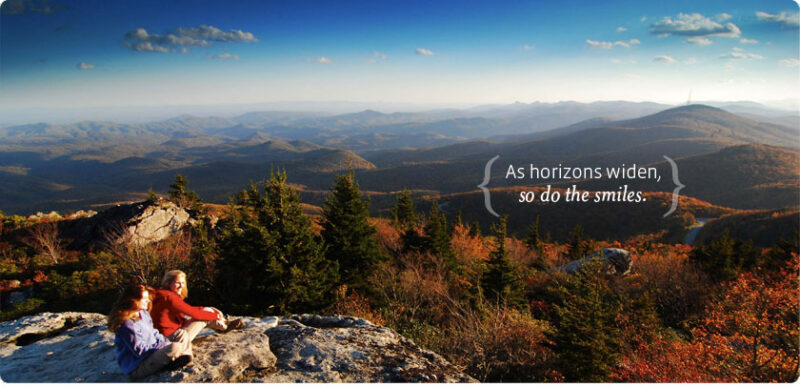 Biologically speaking, the mountain is actually an island. With the retreat of the ice cap, northern species clung to its higher elevations while southern species of plants and animals regarded the neighborhood as a kind of northern boundary. The mountain has eleven natural communities that are home to 42 rare or endangered species, including 11 that are globally imperiled.
For these and other reasons, portions of the backcountry are sheltered within a Nature Conservancy trust and Grandfather Mountain has been singled out as an International Biosphere Reserve. Hikers can access trails only by paying user fees.
Enjoy every moment you're here. And, at the same time, please leave this mountain in the natural (and awesome) state in which you found it.
Mile-High Swinging Bridge
Near the top of the mountain, you can walk across the Mile-High Swinging Bridge, an especially nice place to view more than a dozen of the region's major peaks. Located more than a mile above sea level, it was built in 1952 to span an eighty-foot deep ravine. Down along the lower shoulder of the mountain, you can see animals native to the high country– black bears and cubs, panthers, golden and bald eagles, deer, and otters. You can also stop for lunch at the Nature Museum, where you can walk through exhibits and view films about the mountain's birds and plants, weather, rocks and minerals, geologic past, and more recent times.
Hiking Backcountry to and from Swinging Bridge
If you pay admission and drive up from the gate, please park at the Black Rock Parking Area, a quarter-mile from the summit, and use the Bridge Trail to access the Grandfather Trailhead. Parking at the Black Rock provides more room at the Swinging Bridge Parking Area for guests who come and go. Please return to your vehicle by the posted trail closing time. If, in an emergency, you leave your car on the mountain, please call 733-4337 or 733-2800 as soon as possible to notify Grandfather Mountain staff.
If you buy a hiking permit only, the trip up and down the mountain along either Profile or Daniel Boone Scout Trail can be a challenging, all-day hike. Plan on hiking back to your car or being picked up at the Swinging Bridge Parking Area before park closing time. For safety reasons, walking down the park road is not permitted. Grandfather Mountain is not able to provide rides to or from trailheads.
Summary – Grandfather Mountain
Location: Avery County, about 19 miles south of Boone.
Access: Main entrance is on US 221, two miles north of Linville and one mile south of the Blue Ridge Parkway at milepost 305.
The trailhead for the Profile Trail is on NC 105 one quarter mile north of the NC 184 intersection at Tynecastle.
Eastside trails are usually accessed from the Boone Fork Parking Area at mile 299.9 on the Blue Ridge Parkway.
The alternative is the A-su-tsi Trail which begins across from Serenity Farm on US 221, the only winter access when the Parkway is closed.
Elevation: 3900ft. to 5964 ft. atop Calloway Peak.
Ownership: Private. Grandfather Mountain is the only private park in the world designated by the United Nations as an International Biosphere Reserve. Entrance fees are charged.
Hours: 9 AM to 5 PM. 828-733-2013 or toll-free: 800-468-7325.
Hiking Fees: Permits may be purchased at several nearby stores.
Ticket office: Open 8 AM to 7 PM in summer: 828-733-4337.
Nature Museum & Restaurant: 828-733-1059.
Summit Visitor Center: 828-733-2800.
Trivia: Sierra Club founder John Muir climbed Grandfather Mountain on Sept. 25, 1898, and said it was like standing "in the face of all Heaven come to earth."