Less than an hour from Greensboro, the Birkhead Mountains Wilderness is Piedmont's only federally-designated wilderness area. You won't find any stunning high altitude vistas here. What you will find is a recovering Piedmont forest that sports clean, crisp streams and wildflowers such as Trout lilies, Black cohosh, and Evening primrose. Artifacts from homesteads and farms are also abundant. Observant hikers will spot old chimneys, stone walls, and even holes from abandoned mines.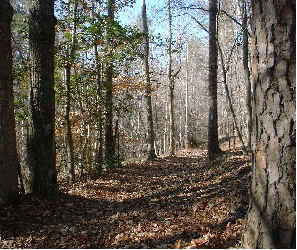 The Birkhead Mountains Wilderness can be accessed from three trailheads: The Thornburg Farm and Robbins Branch trailheads on the west side of the Wilderness, and the Talbott's Branch trailhead on the north side. Parking at the unofficial Talbott's Branch trailhead is limited to parking on the shoulder of Tot Hill Farm Rd. across from the golf course.
Trails
There are four trails in the Wilderness area: Thornburg, Robbins Branch, Hannah's Creek, and Birkhead Mountain.
The Thornburg Trail starts at Thornburg Farm, crosses Betty McGees Creek, and merges with the Robbins Branch Trail at about 1.8 miles.
Robbins Branch Trail follows Robbins Branch and an old roadbed through the western portion of the Wilderness.
Hannah's Creek Trail connects the southern end of Robbins Branch Trail with the Birkhead Mountain Trail.
The Birkhead Mountain Trail starts at the Talbotts Branch trailhead at the north end of the Wilderness and connects with Hannahs Creek Trail before continuing southward into private property.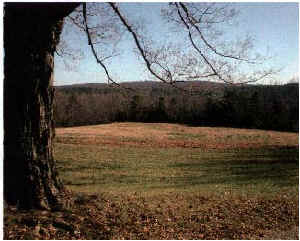 Be aware that there are several inholdings of private property within and near the Wilderness area. This Wilderness may not seem as pristine or remote as Linville Gorge, but as always, practice the No Trace ethic. Also remember that you may encounter hunters, particularly near the Thornburg farm area. It is being actively managed for quail, wild turkey, and other small game species. Wear blaze orange during hunting season.
Summary – Birkhead Mountain Wilderness
Location: Randolph County, about 5 miles west of Asheboro
Access: From US 220 in Asheboro, take NC 49 south (you'll actually be heading west) for 5.5 miles. Turn right on Science Hill Rd. (SR 1163) and go 4/10 of a mile. Then turn left (south) on Lassiter Mill Rd. (SR 1107) After about three miles you will see the parking lot for the Thornburg Farm entrance on your left. Note that it is about a two-mile hike (one-way) to get to the main wilderness area from Thornburg Farm.
The Robbins Branch Trailhead is about 2.5 miles further south on Lassiter Mill Rd. Look for the Wilderness Area sign at FR 6532. Turn left and go about 1/2 mile to the parking area.
Size: 5025 acres at the northern end of the Uwharrie National Forest
Established: 1984 by the North Carolina Wilderness Act.
Contact: Uwharrie Ranger District
789 NC Hwy. 24/27 East Troy, NC 27371-9332
(910) 576-6391
Resources
Birkhead Mountains Wilderness – The official USFS Birkhead Wilderness site.
Uwharrie National Forest Recreation Guide
North Carolina Zoo – Visit the nearby North Carolina Zoo
Piedmont Land Conservancy – The land trust for Randolph and eight other northern piedmont counties.
Sierra Club – Piedmont Plateau Group – The local Sierra Club group for Guilford, Randolph, and Rockingham counties. Join them for a hike.