Want to know what our coastal barrier islands looked like before postwar development got the best of them? Visit Cape Lookout. It is the closest thing to a seaside wilderness to be found south of Maine.
But don't let the pristine appearance of this national seashore's three islands – North Core Banks, South Core Banks, and Shackleford Banks deceive you. People have lived and worked in this difficult environment for a long time. Verrazano reported natives living on Core Banks during his 1524 voyage to the New World. Colonial sailors frequently used Lookout Bight as a safe harbor during storms and hurricanes. Pirates, such as Blackbeard, found its protected waters a convenient place to launch raids on merchant shipping. The wild ponies that live on Shackleford Banks today are believed to be descendants of feral ponies left behind by Spanish explorers.
Portsmouth
Portsmouth, on North Core Banks, was established by North Carolina's colonial assembly in 1753 and settled shortly thereafter. At its peak in 1860, the village had 505 permanent residents, of which 117 were slaves.
While many of Portsmouth's buildings remain, the traces of other human habitations on the seashore have all but disappeared. Diamond City, at the eastern end of Shackleford Banks, was a thriving whaling and fishing village of 500 people in 1899. But a succession of hurricanes prompted residents to load their homes and belongings onto boats and move to the mainland. By 1903, Diamond City was a ghost town. No trace remains today except a few pieces of lumber and shards of pottery and glass.
The legacy of human habitation shapes this landscape today nonetheless. The feral horses on Shackleford Banks eat vegetation such as marsh grass and young trees, stunting plant succession and limiting the island's ecological diversity. The maritime forests that once covered much of the entire Seashore have been reduced to a small remnant near the western end of Shackleford Banks.
Cape Lookout lighthouse
The most enduring and romantic legacy of human habitation on the seashore is the Cape Lookout lighthouse. Built in 1859 to replace a smaller one built in 1812, its height of 150 feet makes it one of the tallest on the East Coast.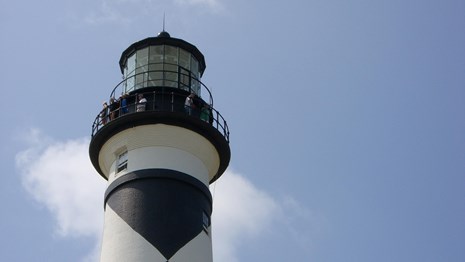 Summary of Cape Lookout
Location: Carteret County east of Morehead City and Beaufort.
Access: Boat only. Take Highway 70 east from Morehead City and follow signs to Harkers Island and Cape Lookout National Seashore. Several marinas on Harkers Island provide ferry service to Cape Lookout and Shackleford Banks for $10 to $14 round trip. See links below. Intrepid canoeists and kayakers can put in at the public park near the eastern tip of Harkers Island. Be aware that the water in Core and Back Sounds can get very rough!!
Size: A 56-mile long section of the Outer Banks between Ocracoke Inlet on the northeast and Beaufort Inlet on the southwest. The average width is about 1/2 mile.
Established: March 10, 1976. Included on the North Carolina Registry of Natural Heritage Areas May 23, 1986. Designated as a component in the Carolinian-South Atlantic Biosphere Reserve in 1986.
Interesting Trivia: When he anchored off Core Banks in 1524, Italian explorer Verrazano thought the body of water on the west side of the dunes that we know as Pamlico Sound was the "oriental sea… which is the one… which goes about the extremity of India, China, and Cathay." For the next 150 years, many European explorers embarked on a fruitless search for "Verrazano's Sea." and a short route to the Far East.
For detailed visitor information, please check out the National Park Service's official Cape Lookout home page .