Given its proximity to the triangle, Eno River State Park could qualify as an urban park. But judging by the quality of its wilderness, this park deserves its statewide recognition. Within this linear park's 2700 acres (five access areas) are 21 miles of maintained hiking trails.
The park is named for the Eno Indians, who, along with the Shakori and Occoneechee tribes, lived near the river prior to European settlement.
Like many other natural treasures, efforts to preserve a portion of the Eno did not begin until the area was threatened with destruction. In 1965, the city of Durham proposed building a reservoir that would flood this portion of the Eno River valley. Concerned citizens responded with the formation of the Association for the Preservation of the Eno Valley (now called the Eno River Association ) in October of 1966, and a spirited lobbying campaign for the river's protection ensued. The campaign succeeded, and the park was officially welcomed into the state parks system on June 15, 1973. Since then, Eno River State Park has grown from a few hundred to 2694 acres. (For a detailed history, visit the Eno River Association website.)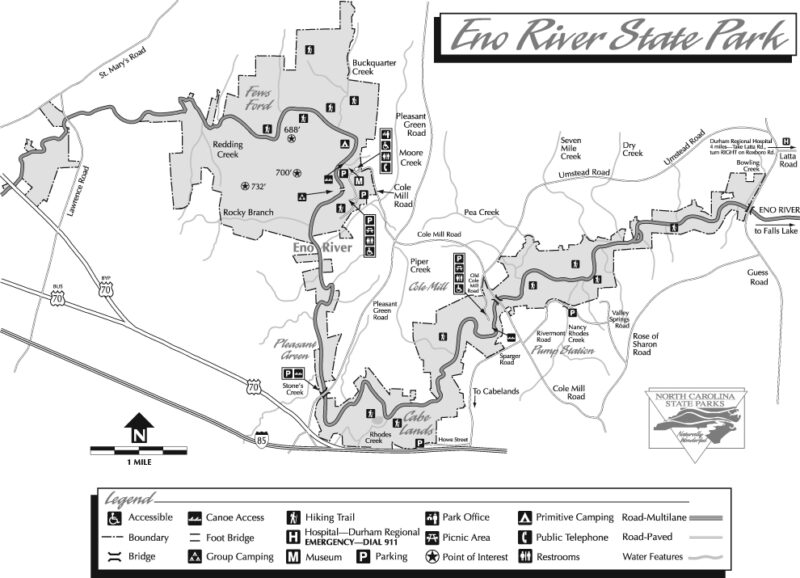 In addition to hiking and nature study, canoeing and fishing are popular pastimes in the park. Individual and group camping sites are available. Reservations are required for the group sites.
For more information, call (919) 383-1686.
Summary – Eno River
Location: Durham and Orange counties, northwest of the city of Durham.
Access: Various. From I-85 in Durham, take exit 173 northwest onto Cole Mill Road, which leads to the park.
Established: 1973.
Size: 2694 acres
Elevation: 700 ft. at Cox Mountain in the Few's Ford section of the park.
Resources