Farm fresh milk and ice cream from Jersey cows
Teaching our children where their food comes from, and why it's essential to our health are important lessons. Because Riverbend Creamery & Dairy Farm sells milk and ice cream directly to the public, visitors are guaranteed a fresh, high-quality product. Supporting small businesses and North Carolina Agritourism is easy when it tastes this amazing! Here is everything you need to know before your visit to Riverbend Creamery.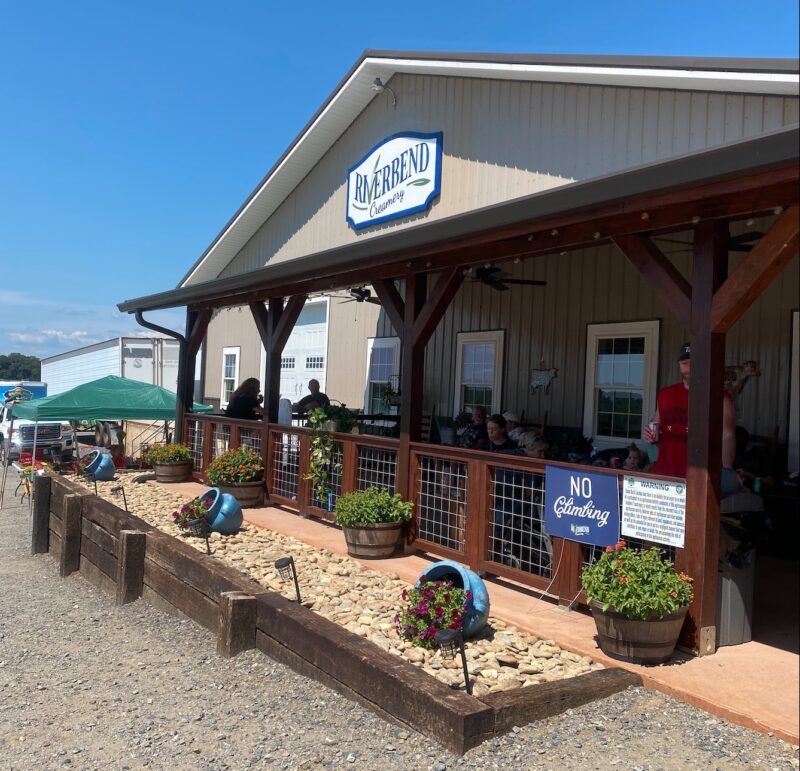 A Scenic drive to Lincolnton, N.C.
"If you build it, they will come" is an iconic line from one of my favorite movies, Field of Dreams. On a breathtaking field in the bend of the South Fork River in Lincolnton, N.C., a scenic drive from Charlotte, sits Riverbend Creamery. As a fifth-generation family-owned dairy, the Lutz family knew that if they wanted to continue farming, they'd have to make a change. Their family began planning an on-farm store and creamery in 2012, finally breaking ground on their dream venture in 2019. Driven by a desire to provide their community farm-fresh Jersey milk, Riverbend Creamery was built.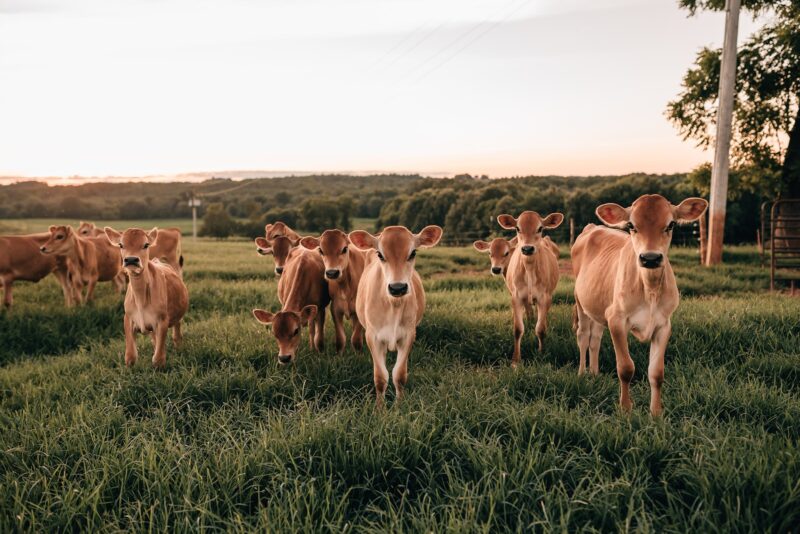 Opened for visitors in September 2021
Riverbend creamy celebrated its much anticipated grand opening in September 2021. Your family can follow the herd about an hour from Charlotte to taste the freshest milk and ice cream from Jersey cows, one of the most friendly breeds. Jersey cows are also famous for their high-quality rich, and creamy milk, which produces a fantastic range of dairy products. Keep reading for hours and location details.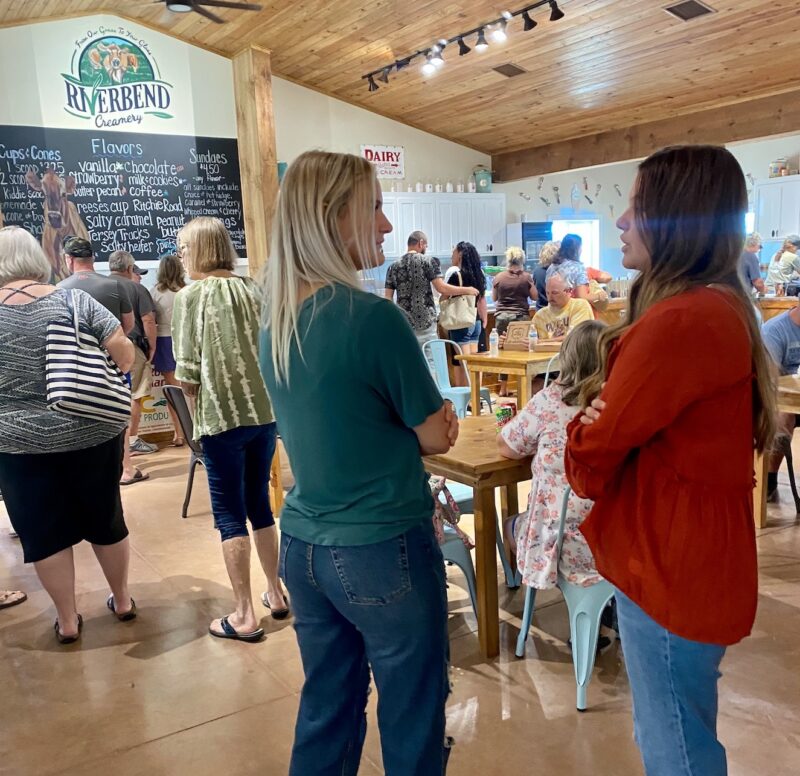 Room to roam makes all the difference
At Riverbend Creamery, everything is done with sustainability in mind. Room for the cows to roam helps them live longer. The family farm milk around 220 Registered Jersey cows, many of which are over ten years old! Every day Riverbend's grass-fed Jersey cows are led from the pasture to the barn to be milked for their renowned creamy, rich milk.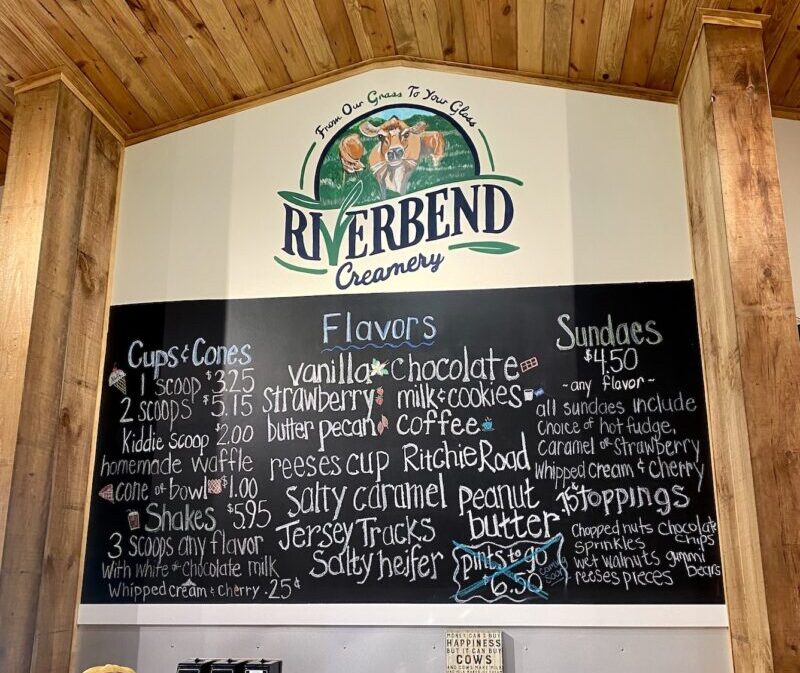 Ice cream is a special treat all year long
Although most popular on hot summer days, many people enjoy eating ice cream all year round. Introduce your family to the fantastic taste of ice cream made with fresh ingredients at Riverbend Creamery. Several uniquely delicious flavors are available, such as Salty Hefer and Jersey Tracks. Order your heart's desire, and it will be promptly hand-scooped into a freshly made waffle cup or cone. Also available are Shakes, Sundaes, and several Toppings. Ice cream and milk prices are at the bottom of this article.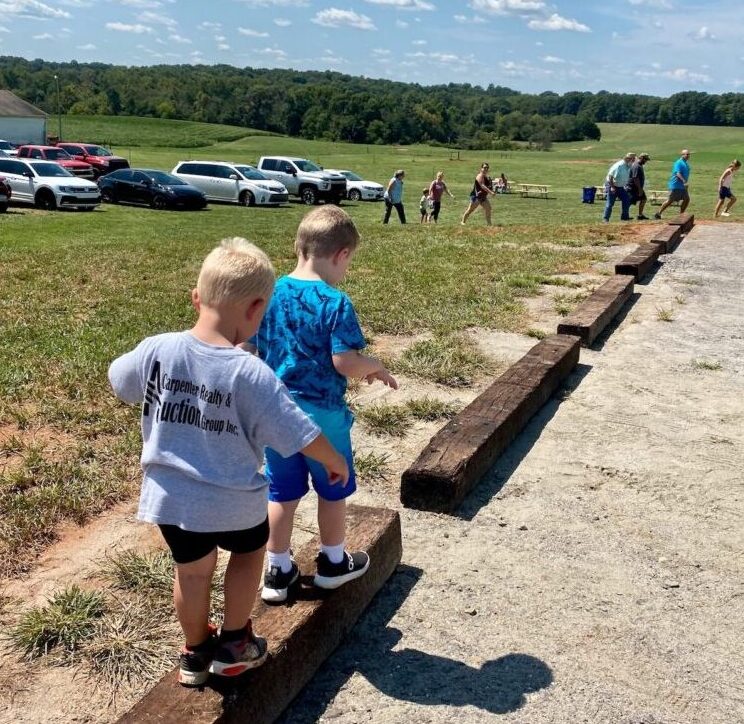 Natural flavors you won't find in the big city
Authentic Jersey milk will win over your taste buds. My husband isn't usually interested in sweets. He ordered a vanilla milkshake and couldn't put it down because Riverbend creamery doesn't rely on ​their product being overly sweet to be good which allows the natural flavor to shine through. Bring a cooler because you will surely want to purchase a couple of pints of ice cream or gallons of milk to go.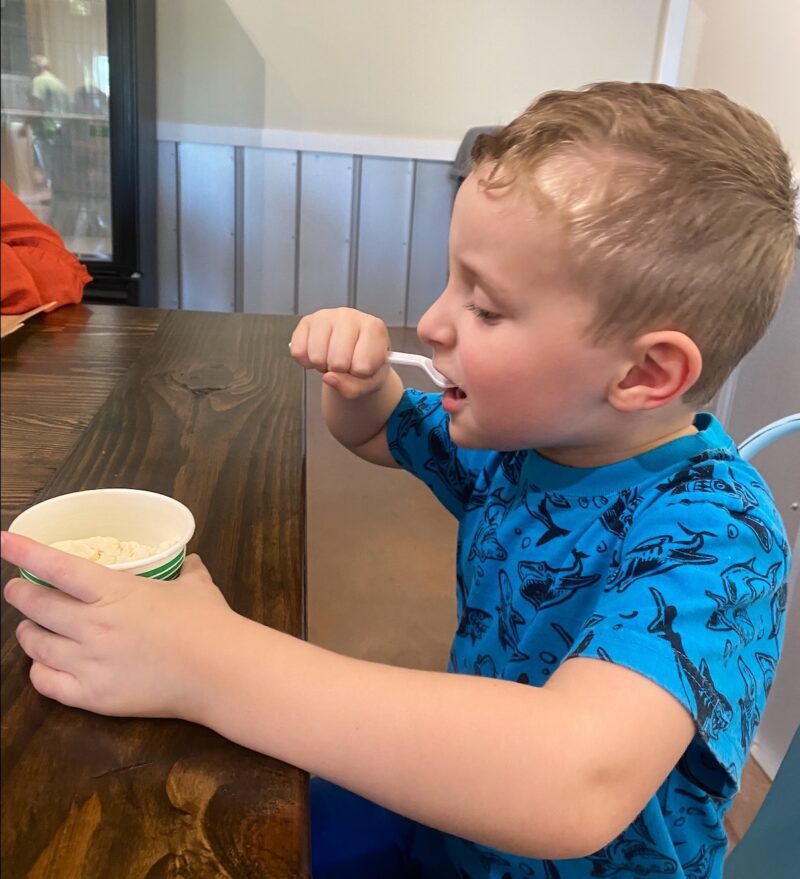 Ice Cream you can feel good about
Jersey cattle is one of the best milk-producing cows. Riverbend Creamery is certified for the "Queen of Quality" seal, a recognition from National All-Jersey, Inc. that their milk is 100% authentic Jersey milk. Jerseys offer premium milk that tastes richer and creamier than other milk, whether enjoyed in a glass or when used in recipes, coffee, or tea.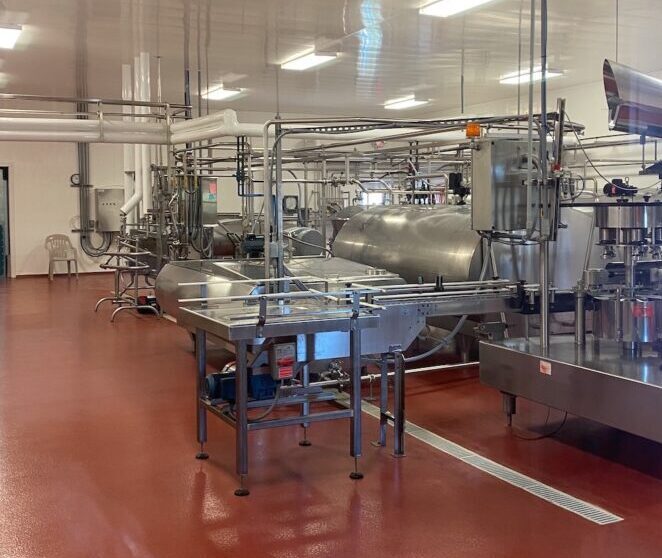 Fresh is always best
Riverbend Creamery milk is bottled right on the farm to offer the freshest milk you can get! Jerseys mainly produce A2/A2 beta-casein protein, which is said to be more easily digested. Individuals that are lactose intolerant often return to cow's milk if it's A2 protein milk. Another benefit worth mentioning, Jersey milk has up to 20% more protein, 18% more calcium, 12% more phosphorous, and more B12 ​than regular milk.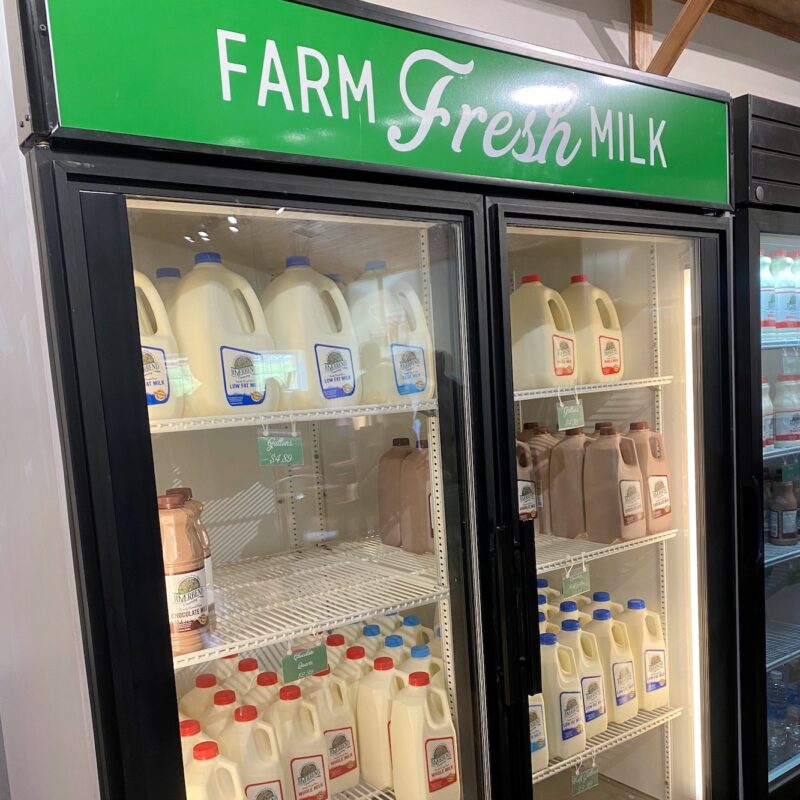 Pack a cooler and stock up
We hope you enjoy your visit to Riverbend Creamery. You can purchase souvenir shirts, mugs, and cooler bags from the creamery before heading home.
Milk:
Gallon: $4.89
Half Gallons: $3.39
Chocolate half a Gallon: $3.59
Quarts: $2.10
Chocolate Quarts: $2.39
Pints: $1.35
Chocolate Pints: $1.49
Ice Cream:
One scoop $3.35
Two scoops $5.15
Kiddie scoop $2.00
Waffle cone or bowl, add $1.00
Milkshake $5.95
Sundae $4.50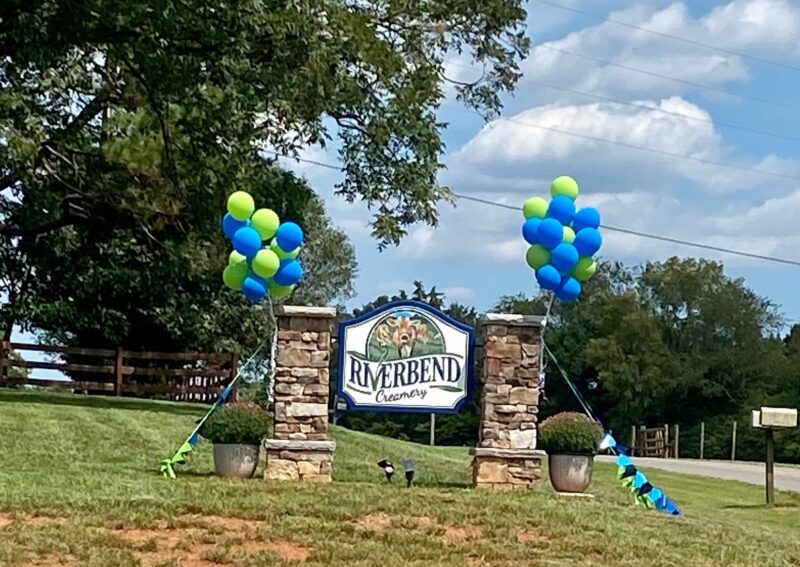 Location:
4391 Ritchie Rd
Lincolnton, NC 28092
Hours:
Monday Closed
Tuesday 11:00 AM – 7:00 PM
Wednesday 11:00 AM – 7:00 PM
Thursday 11:00 AM – 7:00 PM
Friday 11:00 AM – 8:00 PM
Saturday 11:00 AM – 8:00 PM
Sunday 2:00 PM – 6:00 PM
For the most current hours and info, please visit their website.
To learn more about the milk production process at Piedmont Jerseys and Riverbend Creamery watch this virtual farm tour from the Lincoln County Public Library: