Charlotte's Nature Museum
With all of the rain, we've been having, playing outside hasn't been a great option lately. When stir craziness starts to set in, one of my favorite places to take my boys is the Charlotte Nature Museum, Discovery Place Nature.
Located next to Freedom Park, this little jewel is full of things to keep kids entertained during these rain-filled (or insanely hot) summer days. The kid-friendly exhibits are interactive – from experiencing "how a fly sees" to educational games and learning activities. There are also lots of cool owls, snakes, turtles, and awesome creepy critters to see.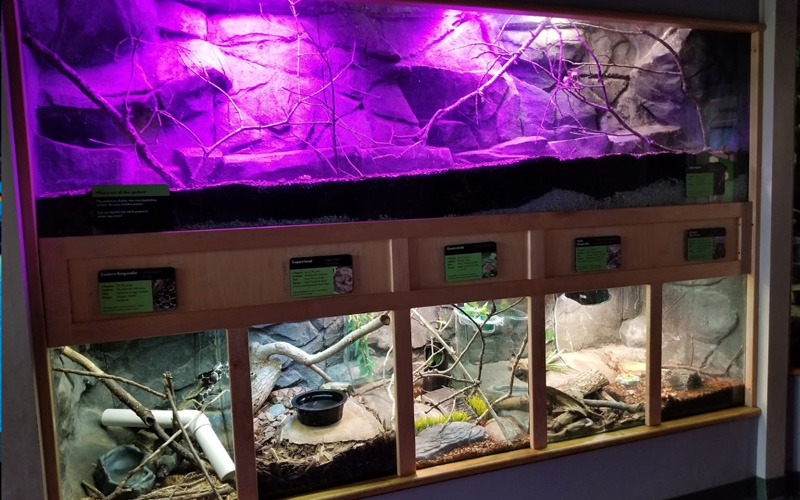 Once you've moved through the exhibits, there are two great play areas: one room full of nature-themed books, puzzles, and toys, and one room that features a giant mole tunnel (complete with peek-a-boo points and a slide), a water table, and some sand to play in.
Needless to say, we spend most of our visits bouncing between these two rooms.
For a moment of zen, visit the Butterfly Pavilion and enjoy watching scores of butterflies fluttering around you. But don't expect to stay too long, because let's face it, this room was made for parents to have a little break – the kids will be clamoring to get back to the fun inside after a few minutes. There is also lots of incredible, shaded outdoor space. The Big Backyard is full of nature trails, a sandbox, and plenty of tools to dig in the dirt. Bring a lunch and enjoy it outside on the deck.
While some of the exhibits are still a little over my two-year-old's head, I know he'll get there all too quickly. For now, I'll take watching him stand on tiptoes to catch a peek of the turtles, hearing him zoom through the mole tunnel with shrieks of laughter, and helping him bury himself in the sandbox any day.
More information about the Charlotte Nature Museum, hours of operation, and program calendar can be found here.
Discovery Place Nature
1658 Sterling Rd
Charlotte, NC 28209
Phone: (704) 372-6261