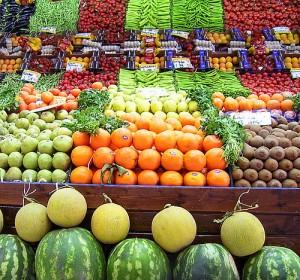 OK I might be odd here, but I love my vegetables. Maybe it was my experience in college of eating so much fast food or junk food- somehow having the ability to eat whatever and whenever gives you an appreciation for the good stuff. Maybe it is just that I like the taste of it.
I remember coming home from college during breaks and my sister and I begging mom for broccoli casserole, and roasted green beans and other vegetable dishes. We were not nearly as concerned about the meat dishes but had lists of veggie dishes we wanted.
So now that I have kids of my own, I want them to enjoy eating their veggies.
They don't have to be bland flavorless dishes that kids push away. Our house rule is that you have to taste everything before deciding if you like it or not, and regardless of liking it you have to eat 3 bites of everything on your plate for a balanced meal. My husband and I don't make meals for the heck of it. We think it through and have healthy balanced options. Especially with a child that is allergic to so many foods- we mainly eat the basic, non-processed foods.
Here are 5 ways we have found to save money on getting those fruits and veggies
Farmers markets: these are local, so are the freshest around, and you can usually buy bulk and save money from them. At the Charlotte Regional Farmers Market, Tuesdays are actually one of the best days to buy. They have to sell whatever is left from the weekend before it goes bad and they are at an awesome price. If you are able to cook it that day or the next this is a perfect option. We usually buy a lot and either can or cook and freeze for meals in advance.
Aldi's usually has the lowest prices on in-season fruits and veggies. I have heard many comment that they run out quick or they don't have the best quality in some stores. Thankfully we don't have that issue at the 2 closest to me. However, if this is your concern, take the Aldi's ad to Walmart or another grocer that price matches and get those deals there. Produce doesn't have brands and you can get a lot of options that way. I buy my produce a week at a time, and stick with in-season options to save money.
Buy frozen – it is much healthier and contains more of the nutrients than canned. We stopped buying canned. Instead we can our own food. It is not that difficult to can your own food. It is easier and cheaper to buy in bulk and can what you don't need for the week. Frozen veggies are quick alternatives to cook as well since they usually come in ready to microwave steamer bags. Combine that with a sale and coupon and you have a cheap quick veggie to fix for dinner. ~Also check Aldi's for frozen veggies. They carry the same brand frozen fruit as Trader Joe's and are MUCH cheaper than Walmart. We get frozen raspberries, blueberries, and strawberries there at unbeatable prices.
Join a food or Produce Co-op or CSA. These work this way: you get food from local farms and go in on a share of the food produced with other locals. You get a basket of fruits and veggies a week (or less depending on how you sign-up) with what was picked for that week. Some items may include herbs and other specialties, or veggies and fruits you have not tried before. This is a good opportunity to learn and try new foods and learn new recipes. The catch is that if there is a low yield due to poor weather or whatever- you don't get as much. You share in the good and the bad of the farm. It still works out to be an awesome deal and you would not believe how good the fresh food tastes. I personally enjoy knowing the farmers that raise my food.
Finally, even someone with very little land and no experience in gardening could grow their own food. We use to live in a town home and had a tiny backyard. We bought a couple tomato plants from Lowe's and planted them by our fence. They grew up the fence and produced TONS of tomatoes that year. You could buy a couple of each types of veggies you like and grow them yourself. It takes little work in a yard that small, and some simple ones to grow include tomatoes, zucchini/squash, cucumbers, cabbage, broccoli and many others. This also makes for a fun long-term activity with kids. My kids love picking the garden and it makes it easy to get them to eat the food they grew and picked.
I hope this gives you several options to save money on your produce each week. It is getting into garden season so there will be lots of options.
What are your best tips for saving on Produce? What is the most  unusual produce you eat and how do you fix it? 
Photo Courtesy of Flickr Creative Commons user muammer: http://www.flickr.com/photos/muammer/2409582661/