With a long summer of 80+ temperatures ahead of us, some ways to beat the heat can come in handy. No need to spend the dog days of summer inside hunkering by the air-conditioning vent. We've got a list of activities to help you survive even the most brutal heatwave and have a whole lot of fun while you're at it.
BOATING ON LAKE WYLIE
With a 13,000 acre lake right in our backyard, there's no reason not to partake in some water sports this summer. Water skiing, tubing, and jet skiing are great ways to stay cool. Don't have your own boat?  Tega Cay Marina (1 Marina Dr, Tega Cay SC; 888-820-9329) offers pontoon boat rentals. Pier88 Yacht Club (54 Marina Rd, Lake Wylie SC; 803-831-0088) rents jet skis, powerboats, and paddle boats.
And if you're thinking about having a really fun time on the lake, Captain Duane's Party Boat can take you out for a good time. Captain Duane currently has a small 14-person boat, but a much larger boat, capable of holding 40 people, is under construction. He also has a Party Bus that can get you to and from the lake. www.charlottepartyboat.com/
BOOMERANG BAY WATER PARK
If you can't cool off here, you can't cool off anywhere. Boomerang Bay, the water park at Carowinds Amusement Park, is 20 acres full of water-based excitement. A 600,000-gallon wave pool, a lazy river, and multiple water slides provide hours of entertainment and the walkways are lined with sprayers and misters so you can't help but cool off. Buy online tickets.
CATAWBA RIVER EXPEDITIONS
Catawba River Expeditions offers canoe, kayak, and tube rentals plus shuttle service on the Catawba River. Trips are self-guided or guide-assisted and vary in experience needed.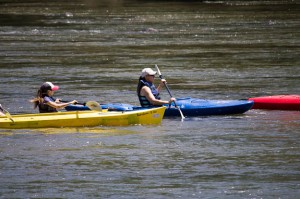 Check the website for scheduled trips. The Lake Wylie Dam to River Park is the most popular trip (moderately easy paddle). Kayak rentals run around $40 for a 1-person kayak.
WHITEWATER RAFTING
Think you have to drive hours to experience the thrill of whitewater rafting? Not so. Located about a 20-minute drive from Fort Mill, the US National Whitewater Center offers Class II, III, and IV rapids that the beginner rafter and experienced rafter alike can enjoy in the largest man-made white water river in the world. Prepare to get very wet. Want to go for a swim? Just let your guide know, and he'll see to it that you go overboard. Afterward, grab a bite to eat and a craft beer at the River's Edge Bar and Grill.
Tip: During peak times, it's best to register online to reserve a rafting time. http://usnwc.org/
VISIT A MUSEUM
Some days, it's just so hot, you don't even want to be outside at all. These are the days it's best to take advantage of one of the wonderful (and air-conditioned!) museums in the area.
Main Street Children's Museum in Old Town Rock Hill is a big hit with young kids and Discovery Place in Uptown Charlotte will delight kids of all ages with awesome science exhibits. The current Animal Grossology Exhibit will give your child a new perspective on all things gross and will probably elicit more than a few giggles. While your there, you might as well see an IMAX movie.
Adults may prefer the Bechtler Museum of Modern Art (420 S. Tryon St, Charlotte) or the Levine Museum of the New South (200 E. 7th St) with exhibits focusing on the North Carolina Piedmont after the American Civil War..
There are lots for the whole family to enjoy at the NASCAR Hall of Fame.
GRAB A SNOBALL OR FROZEN YOGURT
A nice, cool treat is always refreshing on a sweltering summer day. Grab a New Orleans-style Snoball at Pelican's Snoballs (545 Crossroads Plaza).  With over 100 flavors to choose from, there's a flavor for everyone. And bring your four-legged friend to try one of their Doggie Snoballs.
Both TCBY (940 Market ST in Baxter) and sweetFrog (1504 Carolina Place Dr) have delicious self-serve yogurt and a myriad of toppings.
RAY'S SPLASH PLANET
Ray's Splash Planet is an indoor water park in Uptown Charlotte. A day pass for kids is only $8 for non-Mecklenburg County residents and $11 for adults. A 3-story water slide is the main attraction here. It will keep your kids entertained and wear them out!
HIKE AT ANNE SPRINGS CLOSE GREENWAY
Take a shaded hike at the 2,000+ acre Anne Springs Close Greenway and dip your toes in one of the cool, refreshing streams. The 1-mile loop around Lake Haigler is heavily shaded and will make you feel like you are ions away from civilization. Take the Nature Center entrance off of Highway 21 Bypass, park by the Nature Center, and walk towards the right until you reach Lake Haigler. There are restrooms near Rush Pavilion.
COOL OFF WITH AN ICE-COLD COCKTAIL
The mojitos at Carlos Cafe can't be beaten and come in different flavors depending on the season. Pineapple, Strawberry, and Dragonberry are a few of the flavors.
Cloud Nine Martini Bar in Baxter features dozens of martinis that will help you beat the heat. If wine is more your style, head to the Grapevine for a nice glass of Chardonnay.
ICE SKATING AT PINEVILLE ICE HOUSE
If nothing else has worked, step inside the Pineville Ice House (400 Towne Centre Blvd, Pineville NC) and you'll think you've taken a time-capsule to the dead of winter. You may not want to leave. Admission is $7 and skate rental is $3. Check the website for public skating times.