Most urban areas aren't exactly made for gardening. Even if you have a house, as opposed to an apartment, the outdoor living space might be minimal at most. But if you're longing for a garden, moving it up to the roof can be an easily solution. And this is what you need to do:
What 

is

 a rooftop garden?
Rooftop gardens are becoming more and more popular. They are gardens that are, simply, on the roofs of buildings. They're most easily installed on flat roofs, but even if your roof has a bit of a slant, it's possible to build one on there, too.
What you need and what to do
Before you begin, call your local city clerks and get the go ahead. Some cities and towns have by-laws. If you live in a rental, you will also want to contact your landlord.
When you're ready to begin, it's recommended to build sturdy walls around the garden, to shield it from very harsh elements. Be prepared for intense weather conditions by opting for small shrubs and little perennials that are compact to the ground.
Plants that are ideal for rooftop gardens are ones that just require a few inches of depth. It's also beneficial if they are drought tolerant, such as cactus-type plants and low growing grasses. Small trees and shrubs are also ideal if you have a little more depth. Try cedar, ferns, grasses, lavender, mini-roses, and slow-growing dwarf conifers. Add some small flowers and herbs, then native fruiting plants for the birds.
Secure your pots and feed them often. In the winter, bring small plants in doors and wrap large shrubs with burlap.
About Green Roofs
A green roof system is an extension of the existing roof which involves a high quality water proofing and root repellant system, a drainage system, filter cloth, a lightweight growing medium and plants.
Green roof systems may be modular, with drainage layers, filter cloth, growing media and plants already prepared in movable, interlocking grids, or, each component of the system may be installed separately. Green roof development involves the creation of "contained" green space on top of a human-made structure. This green space could be below, at or above grade, but in all cases the plants are not planted in the "ground'. Green roofs can provide a wide range of public and private benefits.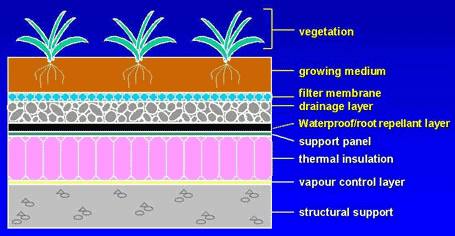 Green roof technologies not only provide the owners of buildings with a proven return on investment, but also represent opportunities for significant social, economic and environmental benefits, particularly in cities.
The benefits of a "green roof"
Not only do rooftop gardens look nice, but they also provide insulation for your home in the winter and cool your home down in the summer. They'll lengthen the life of your roof and reduce outside noises.
As with all gardens, they are good for the environment, too. They neutralize acid rain, remove nitrogen pollution from the rain, and reduce storm run off.
Animals love them, too. They're a great habitat for small animals and birds will love the rooftop retreat.