There's nothing quite like the almost-dizzying feeling of walking the planks of a crooked wooden fishing pier. Peering down between the cracked weathered boards or over the railings to the ocean below, the butterflies in your belly rise and fall in time with the swells of blue-green ocean rolling in under your feet. Looking toward land you get a rare view of the backs of the waves, the spray rising as they curl onto the shore.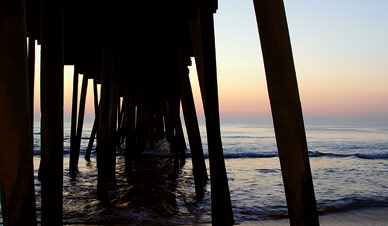 There's a peace there, in the offshore quiet, in the direct sun and wind, with the distinct smells of sun-dried bait and just-caught fish, in the weathered faces of everyday anglers and the fresh smiling faces of once-a-year fishermen. The pier is a different place, so close to land, yet a whole world apart.
Whether you're sightseeing or fishing, the Outer Banks has several piers to give you that experience.
For fishing, piers offer instant deep-water access that makes it easy to catch fish. It's simpler and cheaper than fishing from a boat, and there's no seasickness. For a simple day of fishing, just drop a bottom rig with a good hunk of shrimp or squid for bait close alongside a pier piling, and something like a croaker or spot will come along and eat it sooner or later. Serious anglers, those with more skillful techniques and live bait, can catch king mackerel, bluefish, cobia or even sharks.
Avalon Fishing Pier
This pier is nearly 700 feet long and offers fishing and sightseeing passes, and you can buy bait and tackle, rent tackle and get snacks and food here. MP 6, Beach Road, Kill Devil Hills, 252-441-7494
Nags Head Pier
3335 S. Virginia Dare Trail, Nags Head; 252-441-5141
What are you waiting for? Bring the whole family! Have fun fishing on one of the oldest and longest piers on the Outer Banks… you and yours can cast out your line and reel in memories that will last a lifetime. Rental tackle available! Whether you're fishing for fun, sport or for your appetite – Nags Head Fishing Pier is the place.
This 750-foot pier offers fishing passes, a bait and tackle shop with tackle rentals, sightseeing passes, a game room and a restaurant. MP 11.5, Beach Road, Nags Head, 252-441-5141
Jennette's Pier in Nags Head
MP 16.5, 7223 S. Virginia Dare Trail, Nags Head
252-255-1501
Enjoy 1,000 feet of fantastic ocean fishing at Jennette's Pier. This state-of-the-art concrete and wood pier offers anglers a variety of fish to target – blues, trout, flounder, spot, croaker, cobia and drum. The staff offers various fishing classes. Rods and reels for sale or rent. Tackle shop sells bait, rigs, drinks, ice, coolers.
Pier House Restaurant at Nags Head Fishing Pier
3335 S. Virginia Dare Trail, Nags Head
252-441-4200
The Outer Banks' only oceanfront restaurant serving breakfast, lunch and dinner! Now open – Captain Andy's Oceanfront Bar and Grill – outdoor covered bar and restaurant overlooking the ocean and pier, featuring live music in season, lunch, dinner and Happy Hour appetizer specials daily.
Jennette's Pier
This 1,000-foot concrete pier is covered with wooden planks to give it an old-time feel. It's the Outer Banks' newest pier, opened in 2011, and it's owned by the NC Aquariums. It's an educational facility as well as a fishing pier, and educational programs and day camps are offered here. Inside are aquariums, a tackle shop and a convenience shop. MP 16, Beach Road, Nags Head, 252-255-1501
Outer Banks Pier and Fishing Center
This 650-foot pier in South Nags Head offers fishing and sightseeing passes as well as a bait and tackle shop and tackle rentals. They also have FishHead Grill, featuring steamed seafood. MP 18.5, Old Oregon Inlet Road, Nags Head, 252-441-5740
Rodanthe Pier
Known as the Rodanthe Pier, this one is 796 feet long. It offers bait and tackle, tackle rentals, fishing and sightseeing passes and a convenience store and game room. Atlantic Avenue, Rodanthe, 252-987-0030
Avon Pier
Avon Pier is about 650 feet long and offers a pier house store with bait and tackle, tackle rentals and a convenience store and snack bar. Fishing passes and sightseeing passes are available. NC Highway 12, Avon. 252-995-5480