Decorations, costumes, and candies are your (and mine) main concerns during this time of the year besides job and family. So I have decided to ease things for you by compiling a list with 30 easy DIY costumes for all the little maniacs. Take your time, grab a sheet of paper and a pencil, navigate through the list, and make this Halloween the most remarkable day of your child's life! Note that this is not only a simple costume, it's a parent-child memory (especially if you involve him in the creation process), so devote yourself entirely!
1. Low-Cost Fireman Costume
With so many candles and Jack-O'-Lanterns, a fireman is more than necessary! Besides, I'm sure your kid will enjoy wearing this hero outfit, so make sure he's satisfied! You can create this great costume starting with a cheap plastic helmet and a few old clothes. The badge and braces are your kid's tasks!
2. DIY Ghost Costume
Is Casper one of your child's favorite characters? If so, this easy to do ghost costume will bring a lot of joy in his eyes! Plus, it's really easy to do, considering that the only material required for this project is a used bed sheet.
3. Cheap Paper Doll Costume
Isn't your little girl the most beautiful in the world? She's like a doll! Well… add some paper and she's ready for Halloween! Tip: make sure her trick-or-treat bag is strong enough because she'll get a lot of candies!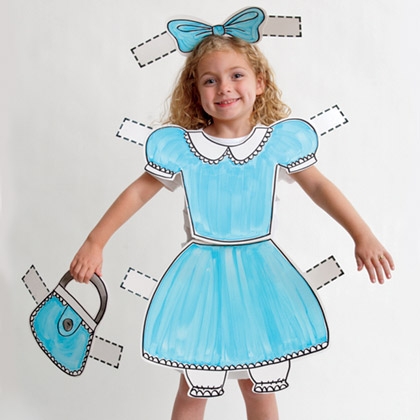 4. Homemade Bat Costume
It's a dark Halloween night, with ghosts and living zombies everywhere, the perfect time for Bat-Kid to make his entry! Transform your son into a little bat with just a few black clothes, a cool cape and a pair of sensible ears!
Tip: to save money and time, you can use an old umbrella for the cape!
5. DIY Kid Skeleton Costume
There's no reason for you to spend a large amount of money for a low-quality costume if you can create one in your own home! Make sure you have a black outfit, white felt and, of course, a reliable assistant – your kid.
Tip: if you don't have white felt, you can use an old T-shirt; if sewing is not among your abilities, you can use white paper and glue.
6. Spooky Eyeball Costume