For some of us, our clothes closets represent our most difficult challenge to downsizing. And I use the plural of "closet" quite intentionally, as we tend to fill whatever closet spaces we have in our homes with our clothing collections, happily amassed over the years, and in some cases worn only for once-in-a-lifetime events. Clothes often conjure up our fondest memories of life's most special and cherished occasions.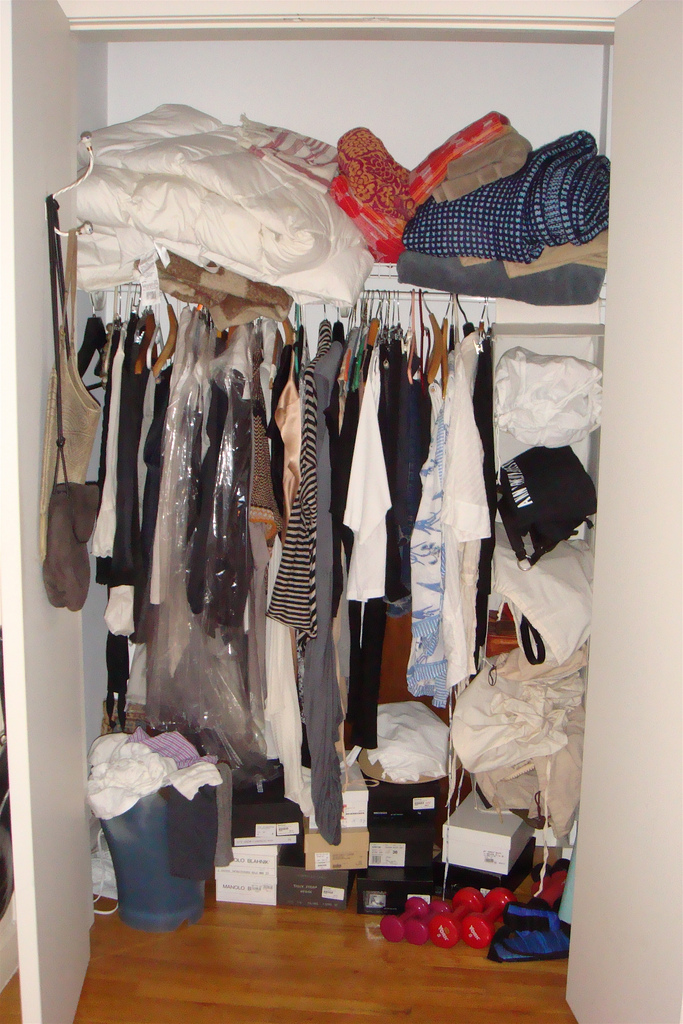 Believe me, whenever we come across (and we will) the beautiful dress that was so carefully chosen and worn to your son's wedding – 30 years ago – I can relate. I still have my own wedding gown (and now, my daughter's), as well as the dresses I wore to both of my children's baptisms and graduations. A couple of times a year, I like to shop for new clothes, to keep up with ever-changing styles, and spruce up my wardrobe a bit. I want to look "nice" when I visit you in your home. At least that is what I tell myself.
The fact is that I inherited this appreciation of clothing from my mother, who taught us that we need to look "pulled together" at all times. I want to please my mother, so I am conditioned to enjoy my clothes. Nevertheless, I don't wear most of them enough to warrant buying more. Most days (as clients often attest) I am found down on the floor, sorting through YOUR clothes, carrying them to and fro as we work to fit the pieces you need and can wear comfortably into the space that will be your new closet (perhaps singular now). This does not require much fashion on my part, only comfort and durability. Like most of us, I wear (the practical) 20% of my clothes 80% of the time. The other 80% of my clothing is, for the most part, CLOSET CLUTTER.
CLOSET CLUTTER is a real problem, as these pieces have served their purposes at some prior time, perhaps even in "another life" (as in a former career or life role). Whether because they are out of style, too worn, or simply "outgrown", we do not wear them more, and will probably not ever wear them again. Like you, and like everyone, I should have passed many of these pieces along to be enjoyed by someone else long ago, but for whatever reason, I have not. YET. I do keep trying though.
I recently tried (on the spur of the moment), to clean out my closet, to make room for a few updated additions. I was, admittedly, quite unsuccessful. I did not properly prepare for this session by securing the proper help and support to be successful. I'll let you in on a little secret: IT IS PRACTICALLY IMPOSSIBLE TO DO THIS FOR YOURSELF, BY YOURSELF if you are a clothing fan! My friends and co-workers agree: We have long ago determined that the clothes horses among us simply require more help with this particular area of clutter busting. To do it well and successfully, you need an objective, decisive person with you to help you make those tough deletions to your wardrobe. You need encouragement to help you remember that clothing not worn and enjoyed is only CLUTTER in fabric form, and that, often, someone else could be enjoying a particular item of your clothing much more than you do. We need to approach this area of our homes with great generosity in our hearts. Keep what you truly wear on a regular basis (and maybe two "special occasion" outfits for that rare night on the town or special family celebration), and let someone else enjoy the rest of the clothes that are only taking up valuable space in your closet.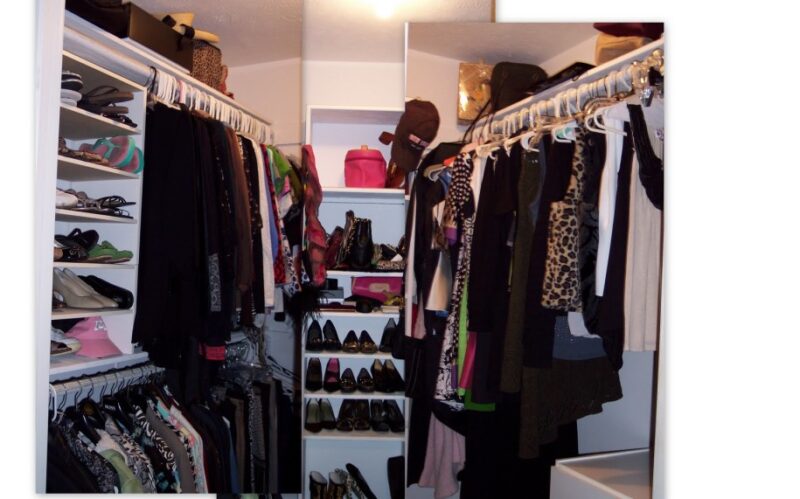 After all, your closet will only hold so much, and we want it to function well for you. The less cluttered and better organized we can make your new closet, the more functional it will be for you, and therefore, the more enjoyable. That is our goal, for EVERY area of your home: closet, cabinet, drawer, or garage. You don't need to do any of it alone. We can do this together!
As for me, I am on my way to the phone, to call for objective assistance to hold me accountable for my next attempt at deleting most of my excessive wardrobe collection. I'll keep you posted!