Carolina Beach Guide
Carolina Beach is the place to be this summer. Warm coastal breezes and seaside activities offer classic beach family fun for everyone, from movies under the stars to seaside amusements and free weekly fireworks. In nearby Kure Beach, come face-to-face with a prehistoric shark at the NC Aquarium at Fort Fisher's newest exhibit and view a life-sized Megalodon jaw, bristling with 184 razor-sharp teeth from this long-gone predator of the prehistoric seas. Join us for a vacation full of simple pleasures and unexpected treasures at Carolina Beach!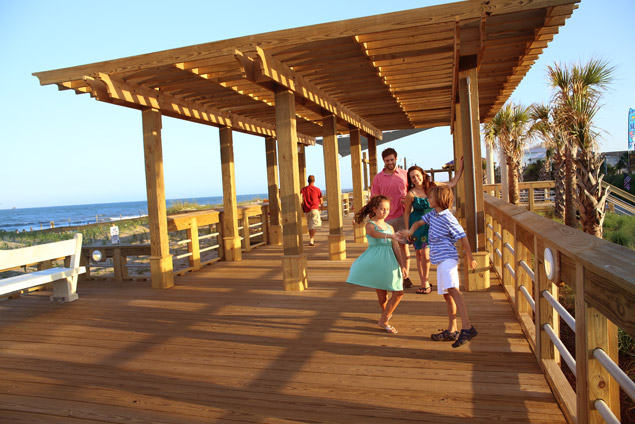 Carolina Beach NC is a classic small town beach with something for everyone in your family to enjoy. From the beachfront to the marina and everywhere in between, charm and hospitality are evident. Enjoy the sand and surf at the beach, or head over to the marina where you can hop a charter boat or watch the fishermen unload the day's catch. Shopping and dining are just footsteps away. In fact, park the car and save gasoline! Flip-flops and a bike will take you most everywhere you need to go. Download a visitor map and start planning your trip.
Whether you're seashell searching or enjoying all the activity along the Boardwalk, there's something memorable for everyone. Vacationers will find water sports galore including surfing, boating and fishing. Landlubbers can enjoy a hike along the many trails or rent a surrey bike and peddle through the center of town.
With a wide variety of accommodations and vacation beach house and cottage rental options to suit any budget, you'll find your perfect home away from home.
Shopping
To be such a comfortably small island, Carolina Beach is bursting with things to see and do. Water and outdoor activities are big here, of course, but that's just the start.

Carolina Beach's shopping is an eclectic mix of specialty stores and familiar names. You'll find treasures of every shape and size. The attractions are equally diverse, with family-oriented amusements and activities day and night. And within 5 minutes of the Central Shopping District are some of the region's most popular tourist attractions. Having fun is easy at Carolina Beach.
The Yankee Trader
1009 S. Lake Park Boulevard Suite A-3
Carolina Beach, NC 28428
A unique gift shop packed full of fun and surprises. An outstanding collection of hand-crafted 14K gold "sea life" charms and gold Nantucket baskets. Awesome Beach Collectables – ships, mermaids, dolphins, frogs, turtles, fish, etc. We are also the Island Christmas Shop offering a wide selection of angels, santas, ornaments, figurines, village houses and snowbabies. Please come browse – we have something to please one and all.
Attractions
Carolina Beach is fortunate to be located close to many NC coastal attractions. The NC aquariums are a popular destination and Carolina Beach is just minutes away from the NC Aquarium at Fort Fisher. The aquarium is located adjacent to one of the premier NC historic sites, Civil War era Fort Fisher. For the history buff – there are plenty of historic sites and attractions near Carolina Beach to keep you busy for days! Family fun is also plentiful in Carolina Beach. Check out all the options for fun below!
Boardwalk Carolina Beach
Oceanfront, Between Harper Ave. & Cape Fear Blvd.
Carolina Beach, NC 28428

The boardwalk has kept its sense of days gone by with its small shops, boutiques and restaurants. Something for everyone, surrey rentals, puppet shows and a wide variety of nightlife entertainment.
Winner Fishing and Cruise Boats
100 Carl Winner Drive
Carolina Beach, NC 28428
The Winner Party Boat Fleet can provide the ideal setting for your corporate functions, reunions, weddings and celebrations of all types. Our staff can assist you with a Gulfstream fishing excursion on a high speed catamaran to a gala formal affair aboard a 400 passenger dinner cruise vessel.
Carolina Beach Amusement Park
Cape Fear Blvd
Carolina Beach, NC 28428
Enjoy our seaside amusement park with 25 rides including a tilt-a-whirl, ferris wheel, scrambler and more. Open every evening Memorial Day through Labor Day. Weekdays 5pm-11pm; Fri & Sat. 5pm-midnight.
Outdoor Activities
Carolina Beach's long, sandy white beaches and soul-restoring waters are timeless. And priceless too. Sometimes it's hard to remember that nature's greatest playground is free of charge! Another peace of mind comes from knowing that Carolina Beach has a staff of professionally trained Ocean Rescue lifeguards protecting the shores and watching out for safety of swimmers.
Visitors love Carolina Beach, and apparently, so do the fish. Toss a line from the pier, the shore or from one of several chartered and group excursions. Of course, there are other ways to enjoy the water, like boating, kayaking and surfing to mention a few. Transient boaters looking to visit Carolina Beach attractions and restaurants are sure to love the new public day docks – free for up to 3 hours for non-commerical boats 25′ and under.
As nice as these are, Carolina Beach's natural beauty and recreational opportunities stretch well beyond the shore. Our reputation for nature-based tourism grows steadily, as hikers, bikers and campers pass the word about Carolina Beach camping, parks and trails. You'll also find inland amusements and attractions, as well as fine golf close by.
Connect with the outdoors in Carolina Beach NC.
Carolina Beach State Park & Family Campground
1010 State Park
Carolina Beach, NC 28428
With a marina providing access to some of North Carolina's best fishing spots, a secluded camping area beneath towering trees, and miles of hiking trails that traverse a variety of distinct habitats
Carolina Beach Lake Paddle Boats
Hwy 421 & Atlanta Ave.
Carolina Beach, NC 28428
Race across the lake in a barracuda water bike or take your time exploring the natural wonders in a family friendly pedal boat (we have boats that will let the whole family pedal together!). If kayaking is more your style, we have a boat just for you!
Joyner Marina
401 Marina Street
Carolina Beach, NC 28428
Joyner Marina welcomes all transient boaters on the trips north, south, or in between! We are conveniently located directly on the ICW at Green Marker 161 and Mile Maker 295 in Carolina Beach, NC. We are one mile south of the Carolina Beach Inlet, and located at Snows Cut which provides easy access to the ocean or the Cape Fear River. We have over 200â?? of dockage available on our fuel pier, and many transient slips inside our basin. Our amenities include gas and diesel fuel pumps, waste pump-out facility, laundry and shower facilities, free Wi-Fi, a 3 block walk to the beach, and convenient access to shops, stores, dining, and night life.
910/458-5053
Carolina Beach Restaurants
There are plenty of ways to tempt your taste buds among the local Carolina Beach restaurants. They range from the freshest seafood to choices in American and ethnic cuisine, from gourmet to home-style cooking and full service restaurants to fast food. The atmospheres vary almost as much as the meals, with everything from fine dining establishments to beach casual. There are options within every budget level. Locating a great restaurant in Carolina Beach is easy; deciding where to go first, well, that's a little tricky.
Lodging
Carolina Beach makes it easy to find the right accommodations. From seaside hotels and family motels to condos, cottages and inns, we've got styles to suit any taste and rates to suit any budget. You can also choose from a variety of ocean, harbor and lakeside views.
Plan your long vacation, quick weekend trip, meeting & convention visit with us. Consider scheduling your trip around one of Carolina Beach's great family-oriented events. And be sure to check the Packages & Specials page because you might be able to save a bundle. See? We told you Carolina Beach vacations were easy!
Nearby Things to Do & See
Some people come to the beach to just enjoy the beach. Others want more to do. Carolina Beach has it all for you. Our beaches are beautiful and clean, the fishing is great, NC surfing is some of the best on the East Coast, camping is popular and there are plenty of campsites available. Kayaking around our marshes and tidal flats is a great way to explore the natural attractions. Birding is popular, as is spotting aquatic mammals and endangered Loggerhead sea turtles. History buffs must visit the Civil War historical sites at Fort Fisher.
NC Aquarium at Fort Fisher
900 Loggerhead Road
Kure Beach, NC 28449
The NC Aquarium at Fort Fisher, near Wilmington, is one of three state-owned aquariums. Renovated in 2002, the facility continues to add new exhibits, programs and activities. The "Exotic Aquatics" gallery features lionfish, spiny lobsters, dart frogs, Hawaiian fishes, and a living Pacific coral reef. Other exhibits showcase the State's diverse aquatic environments. More than 2,500 animals are on display, including alligators, venomous snakes, sharks, stingrays, moray eels, seahorses, sea turtles and colorful reef creatures. Daily live animal presentations, feedings, and dialogues with divers in a large ocean tank. Touch pools, films, gift shop, gardens, food and refreshments. Crafts, canoe trips, camps and more. Beachfront on US Hwy 421, between Kure Beach and the state ferry terminal. Open 9am-5pm, 362 days.
Fort Fisher State Historic Site
1610 Fort Fisher Blvd. S.
Kure Beach, NC 28449
The tour trail is approximately one-quarter-mile long and encircles the remains of the fort on the river side of the highway. Exhibit panels containing photos and text are located at many locations along the tour trail. A restored gun emplacement is located on top on one of the batteries. The visitor center and rest rooms are fully accessible and feature a small gift shop.